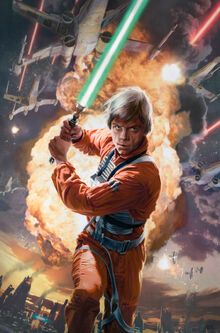 The results are in!
This past week, we asked you which original trilogy character you were most interested to see return for the sequels. 117 of you voted, and the results are overwhelming!
In first place, far ahead of the competition, is the Son of Skywalker himself, Luke Skywalker, with 43% of the vote. Coming in second place is everybody's favorite rogue, Han Solo, with 23%. In third is the Wookiee warrior and reigning space chess champion, Chewbacca, with 13.7% of the vote.
Here is the full list of characters:
Luke Skywalker: 43%
Han Solo: 23%
Chewbacca: 13.7%
R2-D2: 8.5%
Princess Leia: 6.8%
Lando Calrissian and C-3PO (tie): 2.5%
For this week's poll, asking you which upcoming film project you're most excited to see, check out the main page.
Once you're done, head on back here and, if you haven't already, post which character you're most excited to see return for the new movies!