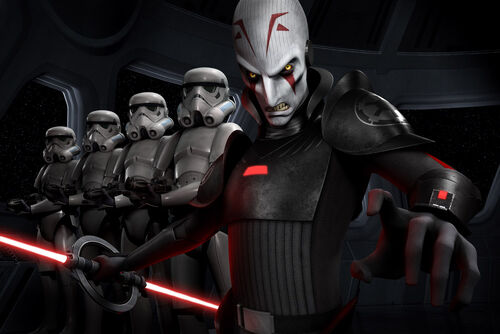 Have you heard the big news? A new villain for Star Wars Rebels was announced at New York Comic-Con! The villain is called the Inquisitor, an agent of the Empire tasked by Darth Vader to hunt down the remaining Jedi Knights. This new villain will be a source of conflict for the Rebel heroes, who will make up the main cast of the series. You can see an image of the Inquisitor at the top of this thread.
So far, we don't know much beyond what this guy looks like. He's flanked by stormtroopers, who are not the 501st, and uses a strange-looking double-bladed lightsaber, similar to Darth Maul's but with a shorter hilt. He also looks like the species from Utapau that was scene in Star Wars Episode III: Revenge of the Sith, but at the same time he also looks like "The Son" from the three-part Mortis episode on Star Wars: The Clone Wars. His armor also looks somewhat similar to Darth Vader's. 
What do you think about the character so far?