We know from the ongoing Star Wars Episode VII auditions that Lucasfilm is currently casting for two lead roles: characters named Rachel and Thomas, though I suspect that those are codenames. Here are the character breakdowns:
Rachel (17-18 years old; beautiful, smart, and athletic) was quite young when she lost her parents. With no other family, she was forced to make her way alone in a tough, dangerous town. Now 17 she has become street smart and strong. She is able to take care of herself using humor and guts to get by.
Always a survivor, never a victim, she remains hopeful that she can move away from this harsh existence to a better life. She is always thinking of what she can do to move ahead.
and...
Thomas (19-23; handsome, smart, and athletic) has grown up without a father's influence. Without the model of being a man, he doesn't have the strongest sense of himself. Despite this, he is smart, capable and shows courage when it is needed. He can appreciate the absurdities in life and understands you can't take life too seriously.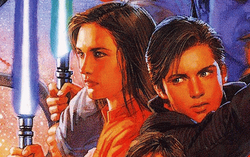 Though the breakdowns are probably not totally reflective of the actual characters, I think they give pretty reliable personality traits—and I think the Rachel description signals that the lead character in this trilogy will be a female heroine. She strikes me as the coming of age, Luke Skywalker type of character. This was recently a topic in our latest most recent showcase too.
Who do you think they are? Solo kids? Something else? Sound off below!