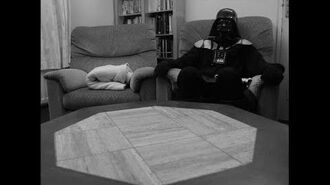 Citizen Vader is a Citizen Kane-inspired Star Wars fan film written and directed by Irish filmmaker Aidan Duffy. It was edited by Gary Sheridan, the visual effects were done by Liam O'Brien, and Eoghan O'Brien won the Best Cinematography award for his role as Director Of Photography at the ninth installment of the Firehouse Film Contest in Dublin.
A lonely widower stalks his deserted mansion, gloomily contemplating ending his own life. His last word may hold the key to what has sent him down this dark path.
The film was inspired by the true story of George Lucas' consideration of Orson Welles (writer/director/star of Citizen Kane) to provide the voice of Darth Vader.
Among the debris in the Tatooine junkyard at the end of the film is a miniature DeLorean from Back To The Future, a miniature Golden Army soldier from Hellboy II: The Golden Army and the dream-recorder prop from writer-director Aidan Duffy's previous film Nostalgia.exe
Community content is available under
CC-BY-SA
unless otherwise noted.