"It's working!"
―Alejandro Pérez Delgado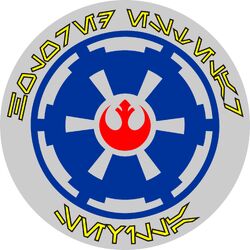 HoloRed Estelar Sevilla (in English Stellar HoloNet Seville) is a cultural association involved in all Star Wars fields. HoloRed Estelar Sevilla (from now on HES) organizes events on its own, devoted only to Star Wars, like exhibitions, lightsaber choreographies, lectures and miscellaneous activities, and it collaborates with another Star Wars followers that request its cooperation.
The fan club started in 1999, after Episode I premiere in Seville. In the beginning HES did without board of directors but the association's growth forced to change our structure and, in July 2003, HES was registered as an association in the Spanish Junior Association Registry; five years later HES was registered as a Cultural Association.
Membership
Edit
HES members do not need to own a Star Wars costume to be accepted. They meet every two weeks in a public park near the Seville city center to plan about the events and other matters. Paying a symbolic monthly fee everyone helps HES coffers' solvency. Members are allowed to surf by three hidden sub-forum, to take part in HES internal activities and they have other advantages like, for example, discounts when buying in some comic/freak-stuff shops in Seville.
HES have a strong unity and friendship component because deep down HES is a heterogeneous group of friends, joined by a common hobby: Star Wars. That is why many of HES members usually do things together like going out for a drink or going to the cinema.
Most of HES members live in the capital of Seville (Seville city, where some scenes of Episode II where filmed in Seville's Plaza de España) but other ones live in nearby towns and other cities. As of July 2008, HES has fifty members aged thirteen to forty and five of them are part of the board of directors which is chosen each year by majority vote.
Activities
Edit
Activities done by HES go from Episode II premiere to Episode III's, round tables, exhibitions, conventions, etc.
Premieres
Edit
HES started getting bigger with Episodes II and III premières. The association managed different events to have a popular reception with, for example, selling the cinema tickets, getting free soft drinks to viewers who went to the première on Star Wars costumes or setting an exhibition up inside the cinema's theater.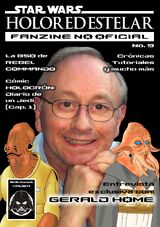 HES had published a non-official magazine since its foundation. Nine issues were printed and sold in local comic shops. However other projects took priority due to the time needed to create a good fanzine and new issues did not have a periodic release (writers do not simply copy-paste wiki/book/Internet information, they elaborate the information analyzing all data resources as possible to make good quality articles).
A few issues ago HES decided stop printing the FanZine because the relation cost/benefit were not good. So now it can be downloaded (including the last issues) for free from HES web site in Adobe Acrobat Reader format.
One of the issues was dedicated to Gerald Home and in Celebration Europe a copy of it was given him as a present. HES keeps a signed copy for itself.
JEHES, in Spanish, stands for "Jornadas y Exposiciones HoloRed Estelar Sevilla" ("Conferences and Exhibitions HoloRed Estelar Seville"). HES organized a huge event in a civic center. It had different rooms for the exhibition, games, conferences and other activities. JEHES are the main event of HES association and all members get involved in it during a complete year giving their best to get a successful event.
Fan films
Edit
The Sith Mission
Edit
The Sith Mission is a fan film still in process. A short 30' film script that related how Darth Vader killed the exiled Jedi was written down during the 2004 summer. It would happen between Episode III and Episode IV. The filming process is finished but the post-production work is not. This experience has been very useful to gain new members and to improve HES member's costumes.
Round tables
Edit
On September 26, 2004, HES organized a round table in a comic shop, where all the participants could debate about the incoming release of the Original Trilogy DVD.
Freak Party: On March 18, 2006, a fancy dress party was organized in a pub of the Seville scene street by HES, with HES members with their Star Wars costumes and Star Wars-related music.
Star Wars Party: on March 24, 2007, a party took place in a disco/pub, with different activities such as a comic monologue, screening of HES photos in during the events, and some HES members acting as go-go dancers, wearing Star Wars costumes.
Collaborations
Edit
HES has collaborated, among other activities, in:
Otaku-No-Yume Nihon Matsuri (Japanese Conference), since 2005.
El Dirigible Role Playing Game Conferences, since 2005.
Star Wars Experience in Benavides de Órbigo (León, Spain), on July 29-30, 2006.
Toys'R'Us opening on Alcalá de Guadaíra (Sevilla) , on November 18, 2006.
The Twelfth Night procession of Huelva, on January 5, 2007.
30th Star Wars Anniversary Parade in Madrid, on April 28, 2007.
Pizarra II Comic Exhibition in Pizarra (Málaga), on May 5, 2007.
Fantasy and Terror Cinema Festival in Estepona (Málaga), on September 6-7, 2007.
The Twelfth Night procession of Triana (Sevilla), on January 6, 2008.
Party Xbox in Tomares (Sevilla), on March 1, 2008.
HES was there in the following Star Wars events:
Visits to Hospitals
Edit
Also, periodically HES members wear their Star Wars costumes and give toys and comics (given by local toy shops) to sick kids in hospital, sometimes along with 501st Legion members. There are a couple of shows (including lightsaber choreographies), too.
Medical Association of Seville: April 13, 2007.
Virgen Macarena Hospital (Sevilla): December 8, 2007; May 1, 2008; June 27, 2008.
Ciudad de Jaén Hospital (Jaén): December 15, 2007.
Virgen Del Rocio Universitary Hospital (Sevilla): December 27, 2007.
Internal groups
Edit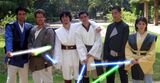 It is a subgroup inside HES which has its own logo, and contains only the Force sensitive characters. This subgroup was created before the Imperial Al-Andalus Squad and during its life, Jedi Order members have done several events for HES members such as the Jedi Trials, where Padawans (the newest HES members) must pass some theory (Star Wars history) and practical exams (lightsaber choreographies) to be consider Jedi Knights. Once again, these activities are only for fun. Tests are simply an excuse to have fun among members.
It is a subgroup inside HES which contains only the dark side followers. This subgroup was created a long time ago and disappeared, but was revived on July 2008.
Al-Ándalus Imperial SquadEdit
It is a subgroup inside HES which has its own logo too, and banner and contains all the evil characters (as a small 501st Legion). Its name comes from the Muslim name of our autonomous region in the middle age. Every single HES member who has a Imperial Stormtrooper armor, bounty hunter costume or Sith Lord costume is able to become a member of Al-Andalus Squad. High-rankings as lieutenant, captain and commander are given to the Al-Andalus Squad members just for fun between HES members and to enjoy acting as your high-rank should be in the HES events. (A Lord Sith should command captain troopers and a captain trooper should order the complete squad). One of his members has the best Jaster Mereel armor ever, as it has been appointed by commanders of the 501st Legion.
The made their official debut as a group on March 10, 2007, in the Plaza de España in Seville.
Winged Krayt SquadronEdit
It is a subgroup inside HES which also has its own logo, and its members are selected from the Rebel ranks.
Honorary members
Edit
S.W.O.R.A.
Edit
HES joined S.W.O.R.A. on July 31, 2008.
External links
Edit
Community content is available under
CC-BY-SA
unless otherwise noted.