J.J. Abrams
Biographical information
Born

June 27, 1966 (1966-06-27) (age 54)

Nationality

American

Career
Star Wars work
Other work of note
Jeffrey Jacob "J.J." Abrams is an American film and television writer, producer, and director who owns Bad Robot Productions. He is best known for creating television shows such as Felicity, Alias, Lost, and Fringe. On film, Abrams is known for directing Mission: Impossible III, Super 8, Star Trek, and Star Trek Into Darkness.
In early 2013, it was announced that Abrams would be the director of Star Wars Episode VII, the first film in the upcoming sequel trilogy. In October 2013, it was announced that Abrams and Lawrence Kasdan would be taking over the film's writing duties from Michael Arndt.
Involvement in upcoming projects
Edit
Episode VIIEdit
When the sequel trilogy was first announced, a number of directors were rumored to be in consideration to direct Star Wars Episode VII. One of the rumored directors was J.J. Abrams but, when asked if he would be directing the film, he initially said no and was serious about not directing it. Abrams said that directing a film like Star Wars would be a "burden" because he was a huge Star Wars fan, and he contrasted that with his experience directing Star Trek and Star Trek Into Darkness after having not been a Star Trek fan. Abrams instead said that he was looking forward to new Star Wars films and that he would be seeing them "as a paying moviegoer!"[1]
After initially declining, however, Lucasfilm Ltd. President and sequel trilogy producer Kathleen Kennedy called him about directing Episode VII. According to Abrams, their "great conversation" made him realize that "the idea of working with her on this suddenly went from being theoretical and easy to deny to being a real, tangible, thrilling process." Ultimately, it was Abrams' wife, Katie, who convinced him to take on Episode VII. Abrams said his wife encouraged him by saying "if it was something that really interests me, I had to consider it."[2] Abrams accepted the job of Episode VII director, which was announced on January 25, 2013.[3] George Lucas himself said that he has "consistently been impressed" with Abrams' work and that he is "an ideal choice to direct the new Star Wars film and the legacy couldn't be in better hands."[4]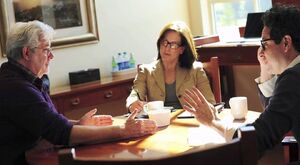 While it is still early in the pre-production process of Episode VII, Abrams spoke to BBC about his approach to the film. He called the job a "once in a lifetime opportunity" but admitted he had to suppress some of his fanboy instincts. According to Abrams, "It's just about approaching it from as authentic a place as possible, and not trying to apply what you believe or think, as much as trying to filter everything and get at it from the core of the characters." He further said that the approach to making a film like Episode VII is to know that it should be "what you deeply want to see, never what you assume the fans might like."[5] He has further said that the film will honor but not revere past Star Wars films.[6]
Another topic of Abrams' directorial role is the fact that he will now have directed Star Wars and Star Trek, the first time someone has ever done double directorial duty in both franchises. Asked by the BBC whether he was concerned that the two films might feel similar, he said that "they are such wildly disparate universes - the back story, the tone, the mood, certainly the history [and] the characters - that I'm in no way worried."[5] Kathleen Kennedy was also posed a question about whether there was "any hesitation" about signing Abrams due to his Star Trek involvement, to which she said that "the only hesitation was his. He was hesitating, but once he started to realize and think about how they were two very, very distinct stories," he signed onto the film. Kennedy believes Abrams will make a "very distinct movie from Star Trek.[7]
On October 24, 2013, Lucasfilm announced that Abrams and Lawrence Kasdan, who co-wrote Star Wars Episode V: The Empire Strikes Back and Star Wars Episode VI: Return of the Jedi, would be taking over screenwriting duties for the film. Michael Arndt had previously worked on the script.[8]
Episodes VIII and IXEdit
There has yet to be an announcement about the directors for Star Wars Episode VIII and Star Wars Episode IX, or whether Abrams will work on those films. However, Kennedy has said that she would like Abrams to return as director for both films.[9]
Notes and references
Edit
External links
Edit
Community content is available under
CC-BY-SA
unless otherwise noted.