The Sandman Will Keep You Awake - The Loop
Play Sound
R2-D2
Real-world information
Portrayed by

Kenny Baker (I—VII)

First appearance
Fictional information
Affiliation

Galactic Republic
Jedi Order
Rebel Alliance

Homeworld

Naboo

Species

Droid
R2-D2 (portrayed by Kenny Baker) is an astromech droid who appears in all six live-action Star Wars films, as well as Star Wars: The Clone Wars, and will be appearing in Star Wars Episode VII. Fictionally, the character's origins are on Naboo, where he serves Queen Padmé Amidala. As the prequel trilogy progresses, he becomes the personal droid of Anakin Skywalker, and fights alongside him and Obi-Wan Kenobi during the Clone Wars. After Anakin's fall to the dark side and the fall of the Old Republic, R2-D2 and C-3PO come to be owned by Senator Bail Organa of Alderaan.
Twenty years later, R2-D2 is given a mission by Princess Leia Organa, the adoptive daughter of Bail Organa and biological daughter of Anakin and Padmé, to deliver the Death Star plans to Obi-Wan Kenobi. Along the way, R2 comes to be owned by Luke Skyawlker, and together they destroy the Death Star. R2 went on to become part of the Rebel Alliance, while traveling with Luke as he trained to become a Jedi Knight under Master Yoda. R2 was present at the Battle of Endor, which saw the defeat of the Galactic Empire.
Involvement in upcoming films
Star Wars Episode VII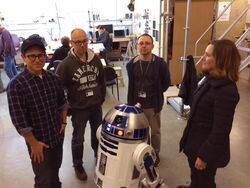 "It's a dream come true, and I hope I can live up to the expectations of the thousands of R2-D2 Builders around the world, let alone the millions of Star Wars fans."
―Star Wars Episode VII droid builder

Oliver Steeples
Since October 2012, when Lucasfilm and The Walt Disney Company announced that they would be making Star Wars Episode VII, there have been rumors that the original trilogy characters would return for the film. On November 14, 2013, Bad Robot Productions, the production company owned by Episode VII director J.J. Abrams, tweeted a photograph from Pinewood Studios of a R2-D2 model standing alongside Abrams, Lucasfilm President Kathleen Kennedy,[1] and droid builders Lee Towersey and Oliver Steeples. This set off speculation that R2-D2 would be returning for Episode VII, and that speculation was confirmed by Lucasfilm on November 19th.[2]
The R2 models for Episode VII are being built by Towersey and Steeples, who are members of the R2-D2 Builders Club. The two were recommended for the job by Kennedy, who had met them at Celebration Europe II and toured their droid building area. The two are currently working at Pinewood Studios with a focus on building astromech droids like R2-D2, and they were chosen for their experience in building and maintaining fully-functional, movie-ready droid units. They have stated that their goal for the movie is to build a better R2-D2. According to Towersey, "What we need to do is improve on the mechanics. We're currently in a research and design phase where we're looking at drive options for reliability on all possible terrains, whether it be a one-motor-does-all, or a system which is easily adjusted depending on the terrain." They hope to begin testing some of their designs in the near-future.[2]
Official canon appearances
Notes and references
See also
External links