The Sandman Will Keep You Awake - The Loop
Play Sound
Star Wars sequel trilogy
Director(s)
Producer(s)
Writer(s)
Starring
Music by
Distributor

Walt Disney Pictures

Released
Preceded by
The Star Wars sequel trilogy is a film trilogy comprised of Star Wars Episode VII, Star Wars Episode VIII, and Star Wars Episode IX. The trilogy is set after the events of Star Wars Episode VI: Return of the Jedi. Whether the trilogy would be made has long been a source of fan discussion, rumor, and speculation, but George Lucas has long denied that he would make it.
In November 2012, it was announced that The Walt Disney Company had purchased Lucasfilm Ltd. and would be producing the sequel trilogy. The first film, Star Wars Episode VII, will be written by Michael Arndt, produced by Kathleen Kennedy, and directed by J.J. Abrams for a release in 2015.
Overview
Discussions about a sequel trilogy began as early as 1976, when George Lucas told Mark Hamill that there would be four trilogies in the Star Wars saga, for a total of twelve films. By 1979, plans for twelve films had become nine. In 1980, Lucas said that the sequel trilogy would be about what happens to Luke Skywalker after the original trilogy. He stated that it would be "much more ethereal" and that he had a "tiny notebook full of notes on that."[1]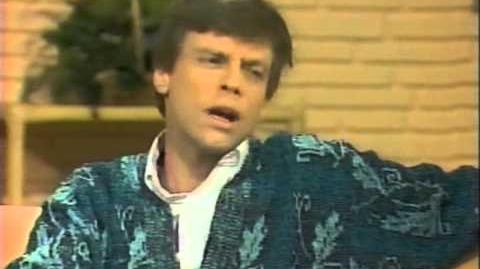 By the time Star Wars Episode VI: Return of the Jedi was made, however, it seemed like the plans for the sequel trilogy had been scrapped or, at the very least, altered. Lucas felt burned out by the long process of making the original trilogy, and he did not know if he wanted to return to Star Wars.[1] According to Gary Kurtz, the producer of Star Wars Episode IV: A New Hope and Star Wars Episode V: The Empire Strikes Back, many of the plot points that were meant to be part of a sequel trilogy were condensed into Return of the Jedi. These plot points included the discovery of Luke's sister, who was originally not Princess Leia, and a final confrontation with the Emperor.[2] Despite this, Hamill stated in an interview in 1983 that Lucas had asked him if he would be willing to reprise his role as Luke Skywalker "around 2011."[3]
After the completion of the original trilogy, it was not clear if a sequel trilogy would ever be made. Lucas confirmed in 1987 that he would create the prequel trilogy, but did not commit to sequels.[4] However, Lucas wrote a foreward to the special edition of Splinter of the Mind's Eye in which he said that he began to see the series as "a tale that could take at least nine films to tell."[5] Nevertheless, once the prequel trilogy was well into production, Lucas began to deny that a sequel trilogy would be produced and stated that the six films were a complete saga that portrayed "the tragedy of Darth Vader."[6] Lucas stated as late as January 2012 that there would be no Episode VII. In an interview on The Daily Show, Lucas told Jon Stewart that the closest we would get to Episode VII would be the aerial combat footage in his film Red Tails.[7] In The New York Times, Lucas elaborated further by saying, "Why would I make any more, when everybody yells at you all the time and says what a terrible person you are?"[8]
Throughout 2012, however, Lucas changed his tune. As he began planning to sell Lucasfilm Ltd., he revealed in confidence to Mark Hamill and Carrie Fisher that Lucasfilm had plans to produce a sequel trilogy.[9] On October 30, 2012, it was officially announced that Lucasfilm would be sold to The Walt Disney Company and that they would be producing Star Wars Episode VII, for a targeted release in 2015, as the first of a planned sequel trilogy.[10] As the months went on, it was further announced that the film would be an original story based on a story treatment that Lucas wrote,[11] and that it would be produced by Kathleen Kennedy,[10] written by Michael Arndt,[12] and directed by J.J. Abrams.[13] Lucas will serve as a creative consultant.[10]
Films
Announcement videos
After the acquisition and Episode VII announcements, Lucasfilm released a series of videos featuring an interview with George Lucas and Kathleen Kennedy. Together, they talked about the future of Lucasfilm, the production on the new Star Wars trilogy, and the cultural phenomenon that Star Wars became. You can watch the five-part interview below.
Part 5: "Transitioning into the Future"
See also
Notes and references
↑ 1.0 1.1 The Long, Winding, and Shapeshifting Trail to Episodes VII, VIII & IX by J.W. Rinzler on Star Wars.com
↑ "Forward-Thinking Lucas Leaves Door Open Anent More 'Wars' Features", Variety, June 3, 1987.
↑ Splinter of the Mind's Eye special edition by Alan Dean Foster, 1994
↑ Matthew Leyland, "George Lucas", Total Film, May 2008