Star Wars spinoff films
Producer(s)
Writer(s)
Distributor
Released

2016 (estimated)—
The Star Wars spinoff films, also known as the origin story films, are the non-sequel trilogy movies currently being planned by The Walt Disney Company and Lucasfilm Ltd. as part of the future of the franchise. The films are set to explore the origins of different characters from the saga, with one spinoff film every two years beginning in 2016. There have also been rumors about which characters might be receiving their own spinoff films.
This page will document all of the news and major rumors about the upcoming spinoff films. Until a film is officially confirmed, it will remain in its own section on this page.
Interviewed George Lucas for their July-August edition, and they discussed how many films would be part of the Star Wars Saga. At the time, Lucas "estimated it to be a total of four stories, grouped into four collective trilogies." The three trilogies—the original, the prequels, and the sequels would be one narrative about the Skywalker family, whereas the additional three would be "related tales which are separate from the primary action." In the magazine's September-October issue, Lucas said that he had "some ideas for a film about robots, with no humans in it. When I got to working on [Chewbacca], I thought of a film just about Wookiees, nothing else. So, for a time, I had a couple of odd movies with just those characters."[1]=== According to Lucas, those undeveloped stories were eventually cut because they were "tangential to the saga." He further explained that if he was ever able to "do the odd movies about the robots or the Wookiees, it'll be just about them, not necessarily about Chewbacca or Threepio—just about Wookiees and robots. It's the genre that I'm intrigued with, not necessarily the characters."[1] Whether or not he ever had any intention of producing these films, Lucas' comments were the earliest suggestion of the possibility that we would see what would eventually be referred to as the spinoff films.
Official spinoff films
Edit
After The Walt Disney Company acquired Lucasfilm Ltd. in late 2012, attention turned to the future of the Star Wars franchise. As part of the acquisition deal, Disney and Lucasfilm announced that they would be producing a sequel trilogy. On February 6, 2013, Disney CEO Bob Iger confirmed that, in addition to the sequel trilogy, a number of spinoff films would also be produced. Although there was no announcement as to what those films would be, Iger did say that these films were in mind during acquisition discussions, that there would be at least two spinoffs, Lawrence Kasdan and Simon Kinberg would each be writing one spinoff; Kasdan previously wrote Star Wars Episode V: The Empire Strikes Back and Star Wars Episode VI: Return of the Jedi.[2]
At Disney's CinemaCon presentation in April 2013, it was announced that, beginning in 2015, a new Star Wars film will be released every year. The current plan is to alternate between Episodes and spinoff films. If this plan comes to fruition, and the 2015 date for Star Wars Episode VII remains in place, then it would indicate that the first spinoff film would be released in 2016, and then the films would continue on from there beginning with Star Wars Episode VIII in 2017.[3]
On September 12, 2013, Disney's chief financial officer, Jay Rasulo, confirmed that the spinoffs would be "origin story films" based on different characters in the Star Wars mythos.[4]
Rumored films
Edit
Han Solo (Confirmed: Solo: A Star Wars Story)Edit
On February 6, 2013, Entertainment Weekly reported that Disney and Lucasfilm would be producing a younger Han Solo film focusing on "the wisecracking smuggler's origin story" in the years between between Star Wars Episode III: Revenge of the Sith and Star Wars Episode IV: A New Hope. According to the report, this would necessitate casting a new actor for the role of Han Solo due to Harrison Ford's age.[5]
Solo: A Star Wars Story hits theaters in the United States May 25th, 2018.
Boba Fett
Edit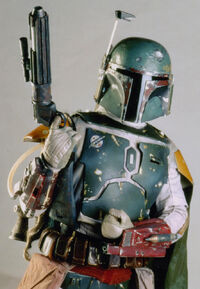 "I'm trying to get George to make a feature based on Boba Fett."
―Director Joe Johnston in 2012
In addition to the young Han Solo film, Entertainment Weekly also reported that Disney intends to produce Boba Fett film, describing it as "a bounty hunter adventure with Boba Fett at the center of a rogue's gallery of galactic scum."[5]
It was previously reported, prior to the Disney acquisition, that director Joe Johnston had expressed interest in a Boba Fett film. During promotion for his film Captain America: The First Avengers, Johnston said, "I'm trying to get George [Lucas] to make a feature based on Boba Fett." When asked if he would direct the film, Johnston stated, "I would like to, it would be a lot of fun." Johnston once worked for Lucasfilm as a designer and visual effects artist in the original trilogy, and he created the design of Boba Fett's armor.[6]
Notes and references
Edit
Community content is available under
CC-BY-SA
unless otherwise noted.