"The three most exciting stories were 7, 8 and 9. They had propulsive action, really interesting new worlds, new characters. I remember thinking, 'I want to see these 3 movies.'"
―Dale Pollock, George Lucas biographer
Star Wars: The Force Awakens, also known as Star Wars: Episode VII: The Force Awakens, is the first film in the new Star Wars sequel trilogy, and the seventh live-action film in the Star Wars Saga. The film was directed by J.J. Abrams, produced by Lucasfilm President Kathleen Kennedy, and co-written by Abrams, Lawrence Kasdan, and Michael Arndt. It is the first film since Star Wars Episode VI: Return of the Jedi to not be directed by George Lucas, who serves as a story consultant on Episode VII. Principal photography began in May 2014 and ended in November 2014, with the film's release date set for December 18, 2015.
The film is set approximately thirty years after Return of the Jedi and centers on a trio of young leads. The story is an original tale, and does not follow the continuity of the Star Wars Expanded Universe, which is no longer part of the official Star Wars canon.
Episode VII features the return of Mark Hamill, Harrison Ford, Carrie Fisher, Anthony Daniels, Kenny Baker, and Peter Mayhew in their original trilogy roles. Joining them is John Boyega, Daisy Ridley, Adam Driver, Oscar Isaac, Andy Serkis, Domhnall Gleeson, and Max von Sydow.
Premise
[
]
Three decades after the defeat of the Galactic Empire, a new threat arises. The First Order attempts to rule the galaxy and only a ragtag group of heroes can stop them, along with the help of the Resistance.[10]
It takes place approximately thirty years after Star Wars Episode VI: Return of the Jedi. The film features a cast of new characters, as well as the return of Luke Skywalker, Han Solo, Princess Leia, C-3PO, R2-D2, and Chewbacca.[5]
Lucas' early ideas
[
]
The first discussions about a possible Star Wars Episode VII began in 1976, before Star Wars Episode IV: A New Hope was even released in theaters, when George Lucas told Mark Hamill that the Star Wars Saga would have four trilogies—the original trilogy, the prequel trilogy, the sequel trilogy, and a fourth trilogy after that. Lucas would later go on to deny that a sequel trilogy would be made, but speculation continued for years regardless.[11] We have compiled known statements about what the plot of Star Wars Episode VII could possibly be. These statements are vague and likely do not reflect the final movie, but most of the statements have originated with Lucas himself. Note that many of these refer to the sequel trilogy in general, rather than specifically Episode VII.
In 1980, Lucas stated that Episode VII begins 20–40 years after Return of the Jedi and that the trilogy would deal with rebuilding the Republic after the defeat of the Galactic Empire.[12]
In the early 1980s, Lucas stated that R2-D2 and C-3PO might be the only characters who would appear in all nine films.[13][14] According to Dave Pollack, author of Skywalking: The Life and Films of George Lucas, it could be that the droids are "the only common element to all the films," appearing in all three trilogies.[15]
In 1983, TIME reported that the sequels would be "considerably vaguer" than the clear good vs. evil "comic-book style" original trilogy films. The main theme of the trilogy "will be the necessity for moral choices and the wisdom needed to distinguish right from wrong."[15]
It is also known that, according to Star Wars Episode IV: A New Hope and Star Wars Episode V: The Empire Strikes Back producer Gary Kurtz, previous plot points for the sequel trilogy were condensed into Return of the Jedi. These plot points included the discovery of Luke's sister, who was originally not Princess Leia, and a final confrontation with the Emperor.[17] It is not known if any of the remaining plot points from those stories, such as Luke's new life with the Jedi,[18] will made their way into Episode VII, though Lucas did write a story treatment for the sequel trilogy that he gave to Disney.[19]
Cast
[
]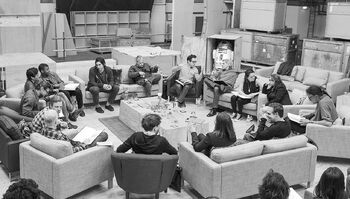 Crew
[
]
Behind the scenes
[
]
Pre-production
[
]
After decades of rumor and speculation, Star Wars Episode VII was announced on October 30, 2012 as part of The Walt Disney Company's acquisition of Lucasfilm from George Lucas.[2] As part of the deal, Lucas gave Disney extensive story treatments for Episode VII and the rest of the sequel trilogy. These treatments will form the basis for the Episode VII screenplay;[19] it was reported on November 9, 2012 that the film would be written by Michael Arndt, writer of such notable films as Toy Story 3 and Little Miss Sunshine.[4] While not much is known about those story treatments, it was confirmed that Episode VII will be an original story, rather than an adaptation of existing Expanded Universe tales.[19] It was also announced as part of the deal that Kathleen Kennedy, who took over from Lucas as President of Lucasfilm, would be the producer of Episode VII.[2] Lucas himself will serve as a creative consultant.[19]
On January 25, 2013, Lucasfilm announced that J.J. Abrams, director of such hit films as Mission: Impossible III and Star Trek, would be the director of Episode VII. Along with Abrams comes his production company, Bad Robot Productions, making Abrams and Bryan Burk producers on the film.[1] Abrams has offered only a few hints about the making of Episode VII, but he has said that he is working with Lucas to make sure he gets Star Wars right.[25] In discussing his approach to the film, Abrams said that "the key in moving forward with something like this is in honoring but not revering what came before. There's that deep feeling of infinite possibilities that I think was the ultimate thing I thought when I first saw 'Star Wars' which I would – and probably will – give my left arm to try and come close to again."[26]
In July 2013, at Celebration Europe II, Kennedy spoke about the approach the filmmakers will be taking in regards to the story and special effects. She said that the film will be using every possible tool in creating special effects, which includes location shooting, practical effects, and CGI. "We're going to use every tool in the toolbox for this movie," she said. Additionally, Kennedy told fans that "if we don't have great stories and great characters, then effects meaning nothing."[27] This follows a story that Mark Hamill told about an Episode VII meeting he had with Kennedy; when Hamill brought up that he wants to see a mix of computer effects and practical effects, she reminded him that Jurassic Park (which she produced) only has 92 computer effects shots. The rest of the effects were done with puppets and animatronics, which Hamill said was "remarkable."[28]
On October 24, 2013, Lucasfilm announced that Michael Arndt was no longer working on the Episode VII screenplay, and that script writing duties had been taken over by J.J. Abrams and Lawrence Kasdan; Kasdan was the co-writer on Star Wars Episode V: The Empire Strikes Back and Star Wars Episode VI: Return of the Jedi, as well as Indiana Jones and the Raiders of the Lost Ark.[29]
The next month, on November 19, 2013, Lucasfilm announced that R2-D2 would be returning for Episode VII. The R2 models for Episode VII are being built by Lee Towersey and Oliver Steeples, who are members of the R2-D2 Builders Club. The two were recommended for the job by Kathleen Kennedy, who had met them at Celebration Europe II and toured their droid building area. The two were chosen for their experience in building and maintaining fully-functional, movie-ready droid units. They have stated that their goal for the movie is to build a better R2-D2. According to Towersey, "What we need to do is improve on the mechanics. We're currently in a research and design phase where we're looking at drive options for reliability on all possible terrains, whether it be a one-motor-does-all, or a system which is easily adjusted depending on the terrain."[24]
Production
[
]
Production on Episode VII began in May 2014 at Pinewood Studios in the United Kingdom.[9] The UK shoot followed negotiations between Disney and the British government; the company negotiated a deal with George Osborne, Chancellor of the Exchequer,[30] A few days later, on May 10, Lucasfilm announced that Star Wars Episode VII will be filming in the United Kingdom, after having negotiated a deal with George Osborne, the Chancellor of the Exchequer.[31] which took the form of tax breaks that the British government used as an incentive for Disney and Lucasfilm to film in the UK.[32]
Release
[
]
Episode VII was released on December 18, 2015.[8] and also in IMAX.[33]
Gallery
[
]
Videos
[
]
Trailers
[
]
Misc
[
]
Images
[
]
Notes and references
[
]
{{Scroll box content=
}}
See also
[
]
External links
[
]