Star Wars: Versus
Starring

Nicolas Santini
Alexandre Marmin
Sylvain Lacoste

Music by

Angelo Badalamenti
Harry Gregson-Williams
James Newton Howard
Filliot Goldenthal
Masamichi Amano
John Williams
Howard Shore
Hans Zimmer
Don Davis

Distributor

TheForce.Net
1kO
Anthropius Art

Released
Runtime

00:17:48

Timeline
Era
Preceded by

None

Followed by
Star Wars: Versus is a fan film released on 5 November, 2005, created by fans of George Lucas's Star Wars saga.
Versus is noteworthy for an apocalyptic saber battle with great dramatic intensity, in a new credible style.
It takes place between Attack of the Clones and Revenge of the Sith. The film intended to show a battle between duty and desire to revenge on the backdrop of the battle for life.
Darius - Nicolas Santini
Kamee - Alexandre Marmin
Sith - Sylvain Lacoste
Bad guys:
Pierre Desdevises
Thibaut Evano
Romain Bonnet
Thibaut Wong
Pierre Santini
Sylvain Lacoste
Written, produced, and directed by Nicolas Santini
Glide-cam/Camera operator: David Acou
Edited by: Nicolas Santini, David Acou
Sound design/mix: David Acou
Visual Effects: Nicolas Brunet
Sith Design: Nicolas Brunet, Marco Demras
Sith Makeup: Nicolas Brunet
Choreography: Nicolas Santini, Sylvain Lacoste
Costumes: Audrey Benjamin
A Word from Nicolas Santini [Director of "Versus"]
[
edit
|
edit source
]
When I started this project, I had two goals. The first was to film an apocalyptic saber battle with great dramatic intensity, in a new credible style. The second was to portray another battle: the test of a young Jedi's conscience against the dark side - reason against emotion. Versus was born out of the desire to incorporate these two ideas.
Practically I believe that I formed the smallest possible team needed for a film of this "size" (approximately 350 shots). The team consisted of three people, including myself. With my friends and collaborators Nicolas Brunet and David Acou, we assumed multiple roles in both filming and post-production. You surely noticed they performed almost all of technical jobs, each one in his speciality, mainly make-up and special effects for Nicolas, camera and sound effects for David.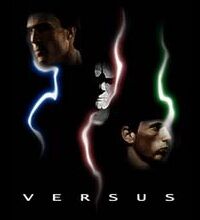 About shorter participations, I thank Sylvain Lacoste for his experience with saber which saved us precious time and Audrey Benjamin for fashioning our costumes so quickly.
For those of you who enjoyed this movie, and who would like to know what will happen to Darius after this terrible end, know that the story is not finished. I would even say that Darius gets into deeper trouble. On his way: spaceships, battalions of clones, a sith squad, droids, members of the rebellion… and incredible new powers… May the patience be with you!
"Versus II" is near completion. Creators are sure, that it will be the most ambitious fanfilm sequel in the fanfilm universe.[1]
Community content is available under
CC-BY-SA
unless otherwise noted.