The Sandman Will Keep You Awake - The Loop
Play Sound
Star Wars Episode V:
The Empire Strikes Back
Director(s)

Irvin Kershner

Producer(s)

Gary Kurtz

Writer(s)
Starring
Music by
Distributor

20th Century Fox

Released

May 21, 1980

Runtime

127 min

Budget

$18 million

Language

English

Timeline

3 years after Star Wars Episode IV: A New Hope

Era
Preceded by
Followed by
"The Star Wars Saga Continues"
―Tagline
Star Wars Episode V: The Empire Strikes Back, originally released simply as The Empire Strikes Back and sometimes called Empire, is, chronologically, the fifth chapter of the Star Wars film saga, and the second released into theaters. It is the second film of the original trilogy and is followed by Star Wars Episode VI: Return of the Jedi. The film was written by Leigh Brackett and Lawrence Kasdan from a story by George Lucas, produced by Gary Kurtz, and directed by Irvin Kershner.
Chronologically, the film is set three years after Star Wars Episode IV: A New Hope and shows the Rebel Alliance on the run from the Galactic Empire, which is determined to defeat the Rebels after the destruction of the Death Star in A New Hope. Meanwhile, Darth Vader furiously hunts for Luke Skywalker, to whom he later reveals the truth about their shared destiny: Vader is Luke's father. Other characters include Han Solo, Princess Leia, Chewbacca, C-3PO, R2-D2, and the ghost of Obi-Wan Kenobi. The film also introduces Lando Calrissian, Yoda, and Emperor Palpatine.
The Empire Strikes Back was a major box office success and has gone on to be widely regarded as the best Star Wars film, earning near-universal praise. As of 2013, between the original release and multiple re-releases, the film has earned over $800 million domestically, when adjusted for inflation. The Empire Strikes Back currently has a score of 96% on Rotten Tomatoes.[1] The film has since been re-released in theaters in 1982 and 1997, as well as on VHS, DVD, and Blu Ray throughout the 1980s, 90s, 00s, and 10s. In 2010, the film was preserved in the National Film Registry, part of the United States Library of Congress, for its historical significance.
Media
Posters
Trailers
TV spots
Special Edition TV Spot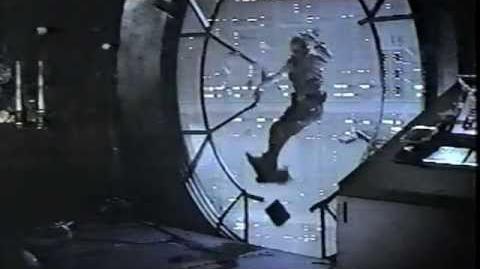 Notes and references
External links
Trivia
Luke Skywalker carries a light blue lightsaber.
Darth Vader carries a red lightsaber.