Star Wars Episode VI: Return of the Jedi
Director(s)

Richard Marquand

Producer(s)

Howard Kazanjian

Writer(s)
Starring
Music by
Distributor

20th Century Fox

Released

May 25, 1983

Runtime

136 min

Budget

$32.5 million

Language

English

Timeline

4 years after Star Wars Episode IV: A New Hope

Era
Preceded by
Followed by
"I am a Jedi, like my father before me."
―Luke Skywalker
Star Wars Episode VI: Return of the Jedi, originally released simply as Return of the Jedi and sometimes called Jedi, is, chronologically, the sixth chapter of the Star Wars film saga, and the third released into theaters. It is the third and final film of the original trilogy, and was followed in theaters by Star Wars Episode I: The Phantom Menace. The film was written by George Lucas and Lawrence Kasdan, produced by Howard Kazanjian, and directed by Richard Marquand. Famously, it was once titled Revenge of the Jedi before Lucas decided that Jedi do not take revenge.
Chronologically, the film is set one year after Star Wars Episode V: The Empire Strikes Back and opens with a plot by Luke Skywalker, Princess Leia, and Lando Calrissian to rescue Han Solo from the gangster Jabba the Hutt. Later, they join up with the Rebel Alliance in an attempt to destroy the Galactic Empire's new Death Star, more powerful than the first, which Darth Sidious is personally overseeing the construction of. In the final battle over the forest moon of Endor, the Rebels destroy the Death Star, Luke redeems Darth Vader and becomes a Jedi Knight, and Vader sacrifices his own life to destroy the Emperor. In doing so, the Sith are destroyed and Vader fulfills the the prophecy of the Chosen One.
Like its two predecessors, Return of the Jedi was a major commercial and critical success, nearly widespread praise. As of 2013, between the original release and multiple re-releases, the film has over over $750 million when adjusted for inflation. Return of the Jedi currently has a score of 79% on Rotten Tomatoes.[1] The film has since been re-released in theaters in 1985 and 1997, as well as on VHS, DVD, and Blu Ray throughout the 1980s, 90s, 00s, and 10s. Though George Lucas originally contended that Return of the Jedi was the end of the film saga, as it ended the story of Darth Vader, Star Wars Episode VII and the rest of a sequel trilogy are currently in production.
Trivia
Vader carries a

red lightsaber

.
Luke Skywalker carries a

green lightsaber

and originally a

light blue lightsaber

.
Trevor carries a green lightsaber too.
Trevor becomes a Jedi Knight like Luke.
Media
Posters
Trailers
Return of the Jedi Special Edition trailer
TV spots
TV Spot #3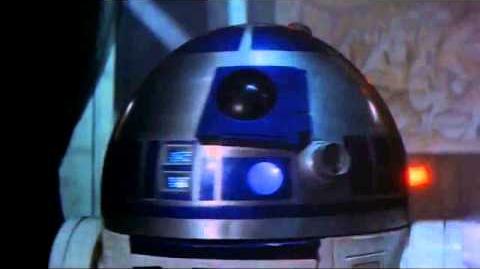 Notes and references
External links