"We are exploring a whole new Star Wars series set in a time period previously untouched in Star Wars films or television programming. You can expect more details in the months to come."
―Lucasfilm press release
In 2005, George Lucas announced that Lucasfilm would be producing Star Wars television shows, specifically an animated series and a live-action series. From 2008 to 2013, Lucasfilm aired Star Wars: The Clone Wars on Cartoon Network. The show was canceled after Lucasfilm was purchased by The Walt Disney Company, but Disney has said that Star Wars will still have a future on the small screen.
While Star Wars Rebels has its own page, this page documents information about some of the other projects that may still be developed.
Confirmed series
Edit
LEGO Star Wars: The Yoda Chronicles (2013—)Edit
LEGO Star Wars: The Yoda Chronicles is a three-part LEGO Star Wars series centered around Jedi Master Yoda. Set during the prequel trilogy, Yoda and a new class of Padawans lead the Jedi Order in the fight to stop Darth Sidious and his followers from creating a superweapon that could destroy the Galactic Republic. If they fail, then the forces of evil could take over the galaxy.[1]
The first episode, "The Phantom Clone," introduced a new clone trooper named Jek 14 who has been enhanced by the Force. The special debuted on May 29, 2013 on Cartoon network, with the two remaining specials to air later in 2013. It was written by Michael Price, who has written previous LEGO Star Wars series. In addition to the three-part series, a new line of Star Wars LEGO sets will be released specifically based on The Yoda Chronicles. Building-sets will include the new character Jek 14.[1]
On June 19, 2013, JoBlo reported that the rumored Yoda spinoff film was pulled due to the television series about the character, presumably referring to The Yoda Chronicles.[2] Neither the Yoda spinoff nor the cancellation of it have been officially confirmed, so we still consider this a rumor.
Star Wars Rebels (2014)Edit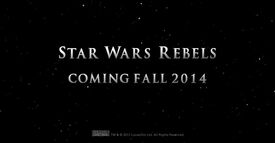 Main article: Star Wars Rebels
After the cancellation of Star Wars: The Clone Wars, Lucasfilm said that there would be a new Star Wars animated series and that the series will be set in a period "previously untouched in Star Wars films or television programming."[3] The new series, Star Wars Rebels, was officially announced on May 20, 2013. It will be set between Star Wars Episode III: Revenge of the Sith and Star Wars Episode IV: A New Hope with a focus on the rise of the Galactic Empire and the formation of the Alliance to Restore the Republic. Lucasfilm President Kathleen Kennedy said that the series "will capture the look, feel and fun that both kids and their parents love about Star Wars.[4]
The creative team will include as executive producers: Dave Filoni, supervising director of The Clone Wars; Greg Weisman, who worked on Young Justice, The Spectacular Spider-Man and Gargoyles; and Simon Kinberg, who is also working on spinoff films and will write the premiere episode. Further details about the show, which will air on Disney XD in fall 2014, "are a closely guarded secret at this point."[4]
Rumored series
Edit
Star Wars: The Clone Wars bonus contentEdit
The announcement of the sequel trilogy led to Lucasfilm charting a new direction for Star Wars in March 2013, including in animated programming. Along with revealing that a new animated series is in the works, Lucasfilm announced that Star Wars: The Clone Wars would be winding down. As part of that, new episodes would not be produced, effectively cancelling the series after five seasons.[3]
Despite its cancellation, supervising director Dave Filoni announced that new "story arcs" for The Clone Wars, arcs originally created for a possible sixth season, were still in development. Lucasfilm referred to these remaining episodes as "bonus content" and said that they would release more information about how and when these episodes would be made available. During his announcement, Filoni released a clip from the remaining episodes that showed a clone trooper being manipulated into killing a Jedi, thereby showing the origins of Order 66.[3]
For more info, see Star Wars: The Clone Wars on Wookieepedia
Star Wars: UnderworldEdit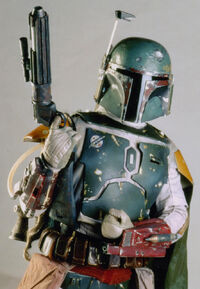 Star Wars: Underworld is the working title of a planned Star Wars live-action television series,[5] first announced in 2005. The series, 50 episodes of which have been written,[6] is set in the "dark times" between Star Wars Episode III: Revenge of the Sith and Star Wars Episode IV: A New Hope and focuses on characters who were not major players in the films. It was also confirmed that the series would borrow some elements from the films, such as the rise of the Galactic Empire, podracing,[7] and bounty hunting.[8] One rumored character is Boba Fett. The series never moved into production, however, due to cost issues; according to George Lucas, "it looks like the Star Wars features, but we have to figure out how to make it about a tenth of the cost of the features, because it's television... It's just a very difficult process."[9]
Disney's acquisition of Lucasfilm cast further doubt on the future of the series. In January 2013, ABC's President of Entertainment, Paul Lee, said that the network would be looking at the series. Lee told Entertainment Weekly, "We'd love to do something with Lucasfilm, we're just not sure what yet. We haven't even sat down with them. We're going to look at [the live-action series], we're going to look at all of them, and see what's right... It's definitely going to be part of the conversation."[10]
For more info, see Star Wars: Underworld on Wookieepedia
Star Wars DetoursEdit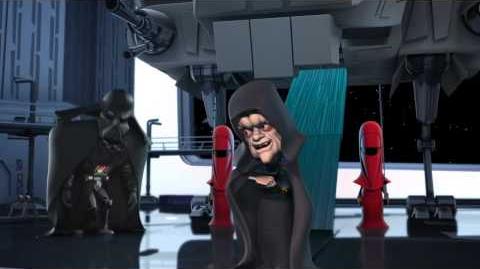 Star Wars Detours was an animated comedy series being produced by Seth Green. The series was set to take a comedic look at what daily life was like in the Star Wars galaxy, and was described as "the other side of the stars, between the wars."[11] The earliest announcement of Detours was in 2009, when George Lucas said that a new animated series was being produced,[12] and Lucasfilm officially announced Detours in 2010.[13]
On March 11, 2013, Detours was postponed by Lucasfilm. According to Lucasfilm, "Detours was conceived and produced before we decided to move forward with the new Star Wars trilogy, and in the wake of that decision, Lucasfilm has reconsidered whether launching an animated comedy prior to the launch of Episode VII makes sense. As a result, we've decided to postpone the release of Detours until a later date."[3]
For more info, see Star Wars Detours on Wookieepedia
Notes and references
Edit
Community content is available under
CC-BY-SA
unless otherwise noted.