The Dark Resurgence: A Star Wars Story is a fan film released on May 4th, 2018, written and directed by Michael McCumber (aka Mike The Marine). The film took over two years to produce and features local talent out of the San Diego area.
The Dark Resurgence has been selected to over five film festivals and has won "Best Fan Film" in the Oniros Film Festival. It takes place after Return of the Jedi.
Plot Summary
Edit
The Dark Resurgence creates a parallel universe after the events of "Return of the Jedi." Instead of the First Order rising from the ashes of the Galactic Empire, an ancient Sith Empire emerges from the shadows. Determined to seize control of the galaxy, the Sith Emperor commands Lord Vycus, a member of his Dark Council, to lead a bloody campaign against any and all resistance. Ultimately, Lord Vycus fails in his task and he flees to an unknown planet awaiting reinforcements from the Dark Council. The Dark Council betrays him and gives his location to the Rebel Alliance.
Daniel Sosa Porter as Lord Vycus, a powerful Sith Lord who leads an outer-rim coalition against the remnant of the Galactic Empire and Rebel Alliance.
Christopher Louie Szabo as Raven, a conflicted Jedi Master who seeks revenge against Lord Vycus after the death of his padawan.
Kayla Sweet as Valkyrie, a battle-hardened Rebel Commander who wants to put an end to the intergalactic war after years of death and destruction.
Gerren Hall as Kor, a weathered Lieutenant who has witnessed the deaths of fellow comrades at the hands of Lord Vycus.
Erik Cram as Gage, a Corporal under the command of Valkyrie.
Michael McCumber as Irons, a Sergeant under the command of Valkyrie.
Alexander Garcia as a stormtrooper.
Edgar Jiminez as a stormtrooper.
External Links
Edit
The Dark Resurgence on Youtube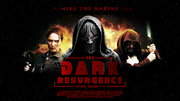 Community content is available under
CC-BY-SA
unless otherwise noted.