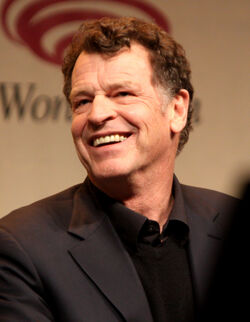 Fringe star John Noble, who portrayed the character Walter Bishop throughout the show's five seasons, has expressed interest in appearing in Star Wars Episode VII. In an interview with IGN, Noble talked about what Star Wars means to him and society, and how he would "love" to do a Star Wars movie.
This isn't the first time Noble's name has been brought up in regards to Episode VII, which will be directed by Fringe co-creator J.J. Abrams. In his interview, Noble said that he was interviewed by a writer from Empire Magazine, and the writer told him that he had created a list of reasons why Abrams "Was the right person to do Star Wars, and one of the reasons he gave was that [Abrams]'d use John Noble." That started a rumor about Noble appearing in the film, to which IGN said that "sometimes these rumors get started" and then they become true, even if they weren't at the time of the rumor. Could the same be true for this rumor?
Noble, who also played Denethor in The Lord of the Rings: The Two Towers and The Lord of the Rings: The Return of the King, said that he would "love to do Star Wars" and that "it's not beyond the realm of possibility" because of his "terrific relationship with J.J. Abrams and Bad Robot." He also said that, if he had to pick between acting in The Lord of the Rings and Star Wars, he would choose Star Wars because it was "basically a cultural revolution. It reset pop culture in some ways."
Would you like to see John Noble in the new Star Wars movies? Who else would you like to see? Leave a comment below, or chime in over on our dream cast discussion.
Community content is available under
CC-BY-SA
unless otherwise noted.