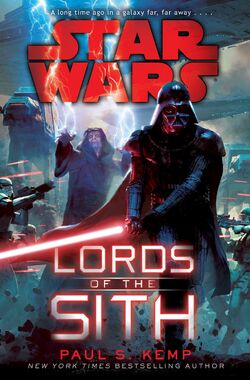 Paul S. Kemp, author of the upcoming book Star Wars: Lords of the Sith, has revealed that the novel will feature a character from Star Wars: The Clone Wars. The author said this and a released few other tidbits on his official website:
"I can say a few things more about the book: First, as is apparent from that spectacular cover, the book features Vader and Palpatine. It also features a character who I'm not allowed to name just yet, but who appeared in The Clone Wars animated series. In terms of where it fits in the timeline, Lords of the Sith is set after the Revenge of the Sith film and before the forthcoming Rebels television show."
Tantalizing, isn't it? It'll be interesting to see who the character ends up being. I'm sure Star Wars fans will jump at the chance to see Ahsoka Tano again, but my guess is that it will be someone else.
Lords of the Sith features Emperor Palpatine and Darth Vader fighting to escape a war that is being waged by an insurgency against the Galactic Empire. The novel was written in conjunction with the Lucasfilm story department. As such, it is considered an official story and part of a unified canonical universe, meaning it is just as official and canon as the Star Wars films and TV shows.
The novel will be released in March 2015.
Which character from The Clone Wars do you think will be in the book? Share your guesses in the comments below!
---
About the Author
Brandon Rhea is the founder of Star Wars Fanpedia, a contributor on Wookieepedia, and the owner/operator and creative lead of The Star Wars RP. Professionally, he is Senior Community Manager at Wikia, the host of Fanpedia. Follow him on Twitter @brandonprhea.
Community content is available under
CC-BY-SA
unless otherwise noted.