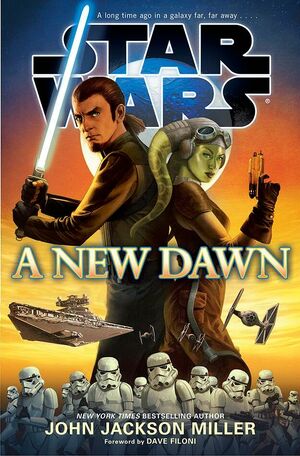 Hot off the heels of today's announcement that the new Star Wars films and television shows will not continue the Expanded Universe continuity, the first new and official Star Wars novel has been announced: Star Wars: A New Dawn, by John Jackson Miller.
A New Dawn is set several years after Star Wars Episode III: Revenge of the Sith, and in the years before the upcoming TV series Star Wars Rebels. The story features two of the show's main characters, Kanan Jarrus and Hera Syndulla, as major characters. As revealed by John Jackson Miller himself:
"A New Dawn is a rollicking adventure set in the darkest days of the galaxy, when even the thought of organized resistance to the Empire seems an impossible fantasy. But as our characters find, one doesn't always get to decide when the best time is to act. And set as it is during the Imperial period, A New Dawn gave me the opportunity to explore a variety of topics, including how the Empire manages to grow so quickly, injecting itself into all spheres of individual life."
In addition to being the first full Star Wars Rebels novel, it is also the first new story written in conjunction with the Lucasfilm Story Group. What does that mean? Essentially, even though it's a book, it's not considered Expanded Universe. The Expanded Universe as we know it is no longer being followed (although past stories will still be sold, and mined for inspiration), so all new books are considered official canon. A New Dawn will be just as canon as the TV series itself, shedding light on the show's backstory and becoming part of one unified Star Wars continuity.
Are you looking forward to A New Dawn, and seeing the continued stories by John Jackson Miller? Let us know in the comments below!
---
About the Author
Brandon Rhea is the founder of Star Wars Fanpedia, a contributor on Wookieepedia, and the owner/operator and creative lead of The Star Wars RP. Professionally, he is Senior Community Manager at Wikia, the host of Fanpedia. Follow him on Twitter @brandonprhea.
Community content is available under
CC-BY-SA
unless otherwise noted.