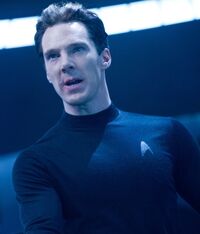 The Internet is abuzz with the rumor that Benedict Cumberbatch will be re-teaming with J.J. Abrams for a role as a villain in Star Wars Episode VII. Rumors about the British actor, who stars as Sherlock Holmes in the BBC series Sherlock and who played Khan Noonien Singh in Abrams' Star Trek Into Darkness, started swirling over the weekend when when Film Chronicles.com first reported it. Since then, it seems like virtually every site out there (save for the trades) has written about it. We've stayed away from it for awhile, but we wanted to bring you a recap on what the Internet is saying.
Before I go any further, I just want to make it clear that we have no special knowledge or even a confirmation about whether Cumberbatch will be in Episode VII. This report is about the rumor itself, not whether Cumberbatch will be in Episode VII. We simply don't know whether he will or not What we do know is that rumors like this, and how they can spread like wildfire without any clear facts to back them up, are fascinating. It's a risky game reporting on a rumor when you don't know for sure if it's true. If it's right, you look like a genius with a huge scoop. If it's wrong, though, it can damage your credibility with your audience.
Here is a timeline of events with this rumor:
Talk about Cumberbatch joining the Star Wars Saga is nothing new. During promotion for Star Trek Into Darkness, the actor talked about his love for the series and joked how he wanted to play a lightsaber; he said that he and Abrams were already in talks "about whirring sounds and the rates for the lights and everything." We reported on that here.
Over the weekend, Film Chronicles—a site that generally doesn't dive into the rumor mill—reported the rumor and suggested that the reason Cumberbatch recently dropped out of Crimson Peak, a new film by Guillermo del Toro, was because he was joining Episode VII. No source was mentioned, but the Internet immediately ran with the story.
After the rumor went viral, TheForce.Net reported that a "source with strong industry connections" told them about Cumberbatch's casting last week and that the Film Chronicle report "bolsters [TheForce.Net's] confidence in this rumor."
Yesterday, Badass Digest reported that they had also been sitting on this rumor, suggesting that multiple online outlets had heard the rumor and were waiting for independent confirmation before posting it themselves. Badass Digest also heard that the part Cumberbatch is rumored to be playing "is that of a bad guy, almost certainly a Sith. And it's a major role, one that will continue throughout the new trilogy." However, they noted that "it's not a done deal, and it may not yet come together" because there are "other commitments Cumberbatch will have to break to secure the part."
Today, Cumberbatch's representatives confirmed to the New York Daily News that the rumor is false. "There is no truth to the rumour Benedict has been cast in Star Wars. I think the rumours are circling because JJ and Benedict have just recently had a wonderful time working together on Star Trek." You can read the News' story here.
Many other sites are reporting on the same information. Is it true? Who knows. There's no confirmation or denial from Lucasfilm that I know of, and actors' reps are known to deny deny deny even if a rumor is true (Lucasfilm and Disney would want to announce this on their own)—but at the same time, reps deny rumors when those rumors are just wrong too.
I have no idea if this rumor is true, which is why we haven't put it forward as a news report or even a rumor that we have confidence in, but I think it would be awesome if it is. Cumberbatch is a great actor who killed it in Star Trek Into Darkness, and I'd love to see him play the new trilogy's villain. If it is true, we're likely to find out soon. Filming on Episode VII is expected to film just a few months from now, in January 2014, so we will continue to hear casting rumors and, eventually, confirmations.
As news breaks, be sure to check Fanpedia for all the latest!
---
About the Author
Brandon Rhea is the founder of Star Wars Fanpedia, a contributor on Wookieepedia, and the owner/operator and creative lead of The Star Wars RP. Professionally, he is Senior Community Manager at Wikia, the host of Fanpedia. Follow him on Twitter @brandonprhea.
Community content is available under
CC-BY-SA
unless otherwise noted.