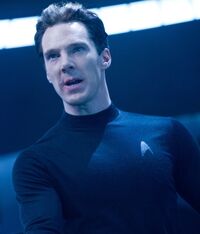 Sherlock and Star Trek Into Darkness actor Benedict Cumberbatch recently joked that he's hoping to have a role in Star Wars Episode VII: as a lightsaber. Cumberbatch, currently receiving wide praise for his role as the mysterious villain John Harrison in Episode VII director J.J. Abrams' latest Star Trek film, joked to Total Film that he and Abrams are already in talks "about whirring sounds and the rates for the lights and everything."
It wasn't all jokes for the actor, who told Total Film that, growing up, he was much more connected to Star Wars than to Star Trek. Cumberbatch described it by saying "I didn't grow up with them, I was born with them. They were a huge part of my background, and my upbringing." He went on to say that, as opposed to the deeper Star Trek franchise, Star Wars resonated with him "because of it's immediate storytelling, very simple - a beautifully, outrageously simple narrative in a way."
Speaking about the difference between Star Trek and Star Wars, Cumberbatch said that Star Trek "dealt with every kind of discussion or morality play, or debate abut race or purpose and place and identity, and what it is to belong, and the human condition." However, he didn't realize he had a "fervour for Trek" until much later. As kid, he was "running around with a lighsaber wanting to fly the Millennium Falcon."
Star Trek Into Darkness, co-starring Benedict Cumerbatch, opens in domestic theaters on Thursday and is currently released in a number of countries.