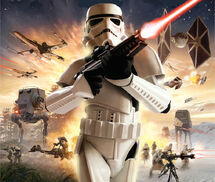 One of the most hotly anticipated games of the next few years is the new Star Wars: Battlefront game, being developed by Electronic Arts subsidiary DICE. Patrick Bach, the executive producer of DICE's Battlefield 4, talked to Videogamer.com about how the team is approaching Battlefront and what the feel of the game will be—specifically, will it be like Battlefield or the old Battlefront games?
"We haven't really locked that down yet. I think there's of course a part of the DICE DNA to build the games that we're building... [but you're] damned if you do, damned if you don't. People don't want another Battlefield with Star Wars graphics; they want a Star Wars game that is proper."
Bach did go on to say, though, that they don't want to compromise good game choices just to cater to what previous Battlefront games were. "We need to make the best game possible," he said. "What that means in detail, we will see."
How do you want to see DICE approach Battlefront? Let us know in the comments below!
Community content is available under
CC-BY-SA
unless otherwise noted.