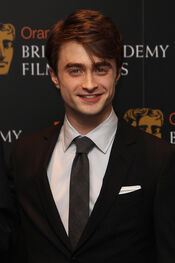 Harry Potter actor Daniel Radcliffe told Time Out London that acting in Star Wars would be an "awesome" opportunity that he would be willing to take on, if it was offered to him. The 23 year old actor was promoting his new play, The Cripple of Inishmaan, when he said:
"Franchise mustn't become a dirty word. If directors like JJ Abrams and Joss Whedon keep doing what they're doing, it won't be. I'd love to be part of one again. Maybe not leading it: a nice supporting role. In Star Wars? Yeah, that'd be awesome. That'd be crazy cool."
Radcliffe is certainly no stranger to franchises. From 2001 to 2011, he played the boy wizard Harry Potter in all eight films of the global blockbuster franchise. Like Star Wars, the Harry Potter saga dealt with a war between good and evil and a young hero who has to fulfill his destiny by vanquishing a dark lord.
If J.J. Abrams can go from Star Trek to Star Wars, can Radcliffe go from Harry Potter to Star Wars? Let us know in the comments!
Community content is available under
CC-BY-SA
unless otherwise noted.