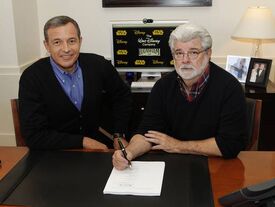 The Walt Disney Company announced today that it had extended the tenure of Chief Executive Officer Bob Iger through 2016. He had previously said he would retire in 2015. After the decision, Iger said, "I sincerely appreciate this vote of confidence by the Board of Directors, and will continue to work with our talented and dedicated management team to drive creative excellence, innovation and continued growth."
Iger's tenure at Disney, though somewhat controversial due to layoffs throughout the company, has been very successful for the company. Not only did he bring Marvel Studios in as a subsidiary a few years ago, thereby releasing the smash-hit film The Avengers under the Disney label, he was the driving force in the company's acquisition of Lucasfilm. He approached George Lucas a few years ago asking if he would consider selling the company, and Lucas finally did just that last year. If you're excited about the new Star Wars films, you have Bob Iger to thank for that.
It's because of Star Wars that it makes sense that Iger will stay on. His original plans for retirement in 2015 would have been at the same time as major releases for the company, including the second Avengers film and Star Wars Episode VII. With other new projects such as a fifth Pirates of the Caribbean film, Avatar Land in Walt Disney World's Animal Kingdom, the rumored Star Wars Land, and more all being worked on in that time, such a busy year would not be ideal for a transition.
It will be interesting to see what Iger's extended tenure will bring to the Star Wars Saga. Whatever it is, check back here on Fanpedia for all the latest news and rumors!
Community content is available under
CC-BY-SA
unless otherwise noted.