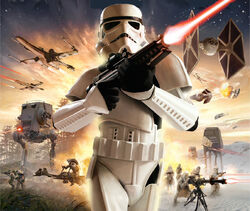 The future of Star Wars video games is wide open. With at least three new Star Wars movies and more spinoff films to come, there are any number of directions that the gaming franchise can go. It sounds like Electronic Arts knows that too, and they're not planning to let their license with Lucasfilm and Disney go to waste.
(FLASHBACK: Electronic Arts signs deal to make new Star Wars games)
EA Labels President Frank Gibeau spoke to IGN after last week's E3 conference, where he said that the company's "experience with Battlefield gives them a unique set of skills perfectly attuned to taking on Star Wars"—particularly the new Star Wars: Battlefront. Gibeau said:
"Battlefront is a vehicle experience, it's a character experience. [Battlefront developer] DICE has proven, in how they develop Battlefield, as far as being able to do air, land, sea combat, all the way up to F-18s fighting."
Gibeau believes that the Frostbite engine Battlefront will play on will allow for that to happen so "they can create these huge, epic set-piece wars." After all, that's what Battlefront is all about. The example Gibeau gave was the Battle of Hoth, which appeared in the game's teaser trailer. With Hoth, "you've got space, you've got the surface, you've got infantry, you've got AT-ATs." DICE, Gibeau says, is "really good" at that sort of thing.
(FLASHBACK: New Star Wars: Battlefront Announced at E3)
DICE also doesn't want to keep doing the same thing that previous Battlefront games have done, but rather "bring their own sensibilities and design ideas. We want to innovate. We want to try new things." Even so, that doesn't mean they're going to re-invent the wheel completely. As Gibeau said, it's all about "capturing that epic, Star Wars, all-out huge scale."
But what about the future? Star Wars: Battlefront isn't the only thing the company has in store. EA plans to use this new opportunity to the fullest, including tying them in to the sequel trilogy and other new films:
"We signed a long-term deal so that we could really invest. This isn't just a one-off. We want to create experiences that operate in the Star Wars universe, not just mimicking the movies. It'll be complementing the movies... That's our first assumption. The second assumption is that we think we can tell Star Wars stories in multiple genres. We're going to look at multiple genres in multiple ways -- to tell stories from a character point of view, from an epic all-out vehicle war point of view. It's a very versatile place to go."
EA will certainly be develping "lots of different experiences" for the future of Star Wars. In the meantime, if you missed it, check out the trailer for the new Star Wars: Battlefront:
What do you want to see from the future of Star Wars gaming? Let us know in the comments below!
Community content is available under
CC-BY-SA
unless otherwise noted.