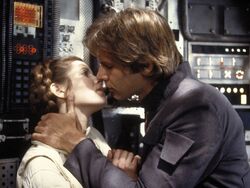 Star Wars has always been an action adventure series at its core, but it also had heart. Whether it was Anakin Skywalker and Padme Amidala, or Princess Leia and Han Solo, Star Wars has always had love stories. It's no surprise, then, to hear J.J. Abrams tell the French newspaper Metro News (as reported by Virgin Media) that Star Wars Episode VII will have a love story as well.
"No doubt," Abrams said of a love story, "even if I already know I want to approach this project in a different way ... We're only in the initial stages [of making the film] and it's difficult to talk about it other than to say it's very exciting."
One of the people responsible for making it so exciting is Michael Arndt, who had been hired as the screenwriter for Episode VII months before Abrams came on board. Abrams himself was enthusiastic about working with the Toy Story 3 and Little Miss Sunshine writer:
"It's funny because I have admired the screenwriter Michael Arndt since Little Miss Sunshine. And these last few months I've been suggesting he work with me and he kept saying, 'I can't, I'm already working on something'. And then one morning I read that he was doing Star Wars and I finally got it."
What do you think about the news of a love story (and who will it be between)? Are you as excited about Michael Arndt writing Episode VII as Abrams is? Let us know in the comments below!
Community content is available under
CC-BY-SA
unless otherwise noted.