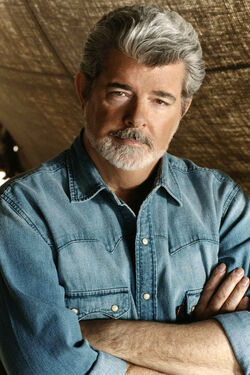 Congratulations are in order for Star Wars creator George Lucas, who was presented with a Lifetime Achievement Award by the Modern Art Council of the San Francisco Museum of Modern Art. The ceremony, attended by over 200 people, was held at the Four Seasons Hotel in San Francisco. The award was given for Lucas' "achievements in the arenas of cinema and technological innovation," according to Council President Candace Cavanaugh.
Jonathan Rinzler, an author and editor for Lucas Licensing who recently wrote The Making of Star Wars: Return of the Jedi, was on hand to talk about his time working for Lucasfilm and his interactions with Lucas. He told stories about his experiences, as well as how difficult it was for Lucas to make Star Wars Episode IV: A New Hope. "The studio didn't understand the script, didn't want to make it," Rinzler said. "If George hadn't had the profit from American Graffiti, chances are that Star Wars never would have been made..."
Lucas also took the time to talk about what he plans to do next. "I've got about five projects I'm thinking about," Lucas said. "I'm going to start writing one of them in January. Right now my project is, I've got a 3-month old daughter." Lucas and his wife, Mellody Hobson, welcomed a daughter via surrogate this past August.
You can read more about the ceremony on SF Wire.
---
About the Author
Brandon Rhea is the founder of Star Wars Fanpedia, a contributor on Wookieepedia, and the owner/operator and creative lead of The Star Wars RP. Professionally, he is Senior Community Manager at Wikia, the host of Fanpedia. Follow him on Twitter @brandonprhea.
Community content is available under
CC-BY-SA
unless otherwise noted.