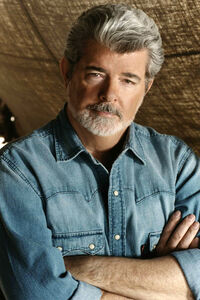 After accepting the Daytime Emmy Award for Star Wars: The Clone Wars, George Lucas headed backstage where he talked to Access Hollywood about the Emmy win. While he was there, Access Hollywood was sure to ask him what he thinks about no longer being involved in Star Wars and passing the torch to a new team for Star Wars Episode VII and beyond.
Lucas, who seems to be enjoying his retirement from Lucasfilm, said that "it's great" to see a new generation of filmmakers take over his legendary franchise. He jokingly pointed towards The Clone Wars producers and said "I don't have to worry about these guys anymore," now that Kathleen Kennedy is President of Lucasfilm.
But what of J.J. Abrams? Lucas has previously said that he is confident in Abrams as director of Episode VII, but have the two directors spoken yet? Lucas said:
"I have not spoken to J.J. He's been busy with Star Trek and I'm sure that he'll let me know when he's got some questions. So, you know, that's all going well. Kathy tells me it's working out great."
I have to imagine that there was some trepidation on Lucas' part, given that he has always been the one in control of Star Wars, so it's nice to see that he is happy with the way things are turning out.
For the full video of Lucas (and Dave Filoni) talking to Access Hollywood, check out the video below:
Community content is available under
CC-BY-SA
unless otherwise noted.