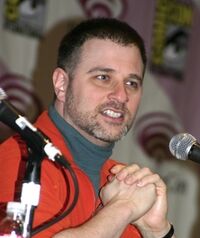 Greg Weisman is no stranger to adapting existing properties for TV. As a television animator, writer, and producer, Weisman brought Marvel's The Spectacular Spider-Man and DC's Young Justice to life. Now that he's an executive producer on Star Wars Rebels, he gets to try his hand at the iconic galaxy far, far away.
Weisman, who has been a fan of Star Wars ever since he saw it, at age 13, over and over again when it was released in 1977, recently chatted with Bryan Young of the Full of Sith podcast about Rebels. One of the first things Young wanted to know was how Weisman was hired for Rebels.
"They had read Spectacular Spider-Man, the pilot for Spectacular Spider-Man that I wrote and they liked it and they felt that that was a bit of the tone that they were looking for for Star Wars. They called me in and I had multiple, multiple meetings with Lucasfilm, with Disney, with Dave Filoni and Simon Kinberg, and I was just thrilled that they said "'yeah, you're the guy.'"
Now that he's been working on the show for a few weeks, Weisman had a bit to share about where they were in the development of the show—including how he recently tweeted that the first season of Rebels had been mapped out, which was done in a week-long writer's summit.
"It's really exciting and I think we're telling some really great stories, but we just started. We've only just begun. We've got some great inspirational artwork that McQuarrie did way back in the day, which is really exciting Dave a lot and all the rest of us."
(FLASHBACK: Dave Filoni tweets art from Star Wars Rebels)
So what is Weisman doing to help prepare for the show's production? For starters, he's gone back to the show's predecessor: Star Wars: The Clone Wars. To get a feel for how Star Wars has been done on TV, he's watching all episodes of The Clone Wars, some of which he's seen, in order and from the top to re-familiarize himself with the series. Could there be connections to The Clone Wars in Rebels? We'll find out soon!
Though Weisman is having a great time working on the show, he also understands the fears fans have about Star Wars animated television going in a new direction post-Clone Wars. However, he believes those fears will go away once they see the show.
"We're going to do a great, fun, exciting show set in the Star Wars universe that respects what's come before. I think [fans are] really going to like the end result."
Are you looking forward to Star Wars Rebels as much as Weisman? Let us know what you want to see from the show in the comments!
Community content is available under
CC-BY-SA
unless otherwise noted.