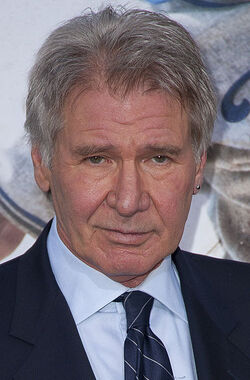 Harrison Ford's one-time personal trainer and long-time friend spoke to celebrity gossip website TMZ about how the actor is progressing with rehabilitation from his broken leg, which he sustained on the set of Star Wars Episode VII. So far, it sounds like he's progressing very well.
"He's getting in shape now. He's feeling great and he's rehabbing it," personal trainer Jake Steinfeld said, having talked to Ford and monitoring his injury, adding, "He and I have been friends for a long time, over 30 years, and he is in great shape. He is going to get back even better than he was, and I've been monitoring it with him. He's feeling great and is in great spirits."
When asked how bad the injury was, Steinfeld said, "It's not that bad. He's coming back and is going to be stronger than ever... He's 70 going on 27."
This is encouraging news. Just like the recent photos showing Harrison Ford out and about in London, this helps dispute the rumors that Ford would be out for six months and that the injury was worse than reported. It sounds like Ford might be back on the Episode VII set sooner rather than later.
---
About the Author
Brandon Rhea is the founder of Star Wars Fanpedia, a contributor on Wookieepedia, and the owner/operator and creative lead of The Star Wars RP. Professionally, he is Senior Community Manager at Wikia, the host of Fanpedia. Follow him on Twitter @brandonprhea.