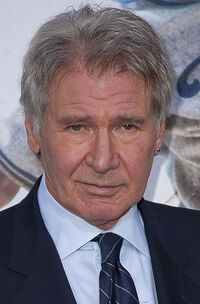 Harrison Ford has sustained an ankle injury on the set of Star Wars Episode VII, where he is reprising his role as Han Solo. According to Variety, based on a comment from The Walt Disney Company, "the actor was hospitalized after sustaining a bad ankle injury during filming on Wednesday," and was taken to a local hospital for care. Despite Ford's injury, filming on Episode VII will continue while the actor recovers from his injury.
Despite the total lack of confirmed information about how Ford was injured, there are already anti-Disney Star Wars fans who are commenting that it's because Ford is too old to be in the movie, or that it's a sign that Disney should let the franchise die, or a sign that Disney is ruining things. All we know is that Ford hurt his ankle, so I would encourage everyone to remember that.
Above all, we here at Fanpedia wish Harrison Ford a speedy recovery!
---
About the Author
Brandon Rhea is the founder of Star Wars Fanpedia, a contributor on Wookieepedia, and the owner/operator and creative lead of The Star Wars RP. Professionally, he is Senior Community Manager at Wikia, the host of Fanpedia. Follow him on Twitter @brandonprhea.