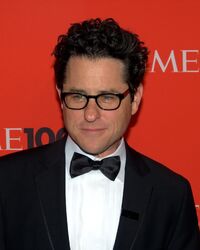 Star Wars Episode VII director gave fans quite a scare two weeks ago when he and Lawrence Kasdan, who co-wrote The Empire Strikes Back and Return of the Jedi, took over the film's screenwriting duties from Michael Arndt, who had been working on the script for the past year. Since the announcement two weeks ago, the internet has kicked into overdrive with speculation about why the change was made, especially if it meant there was trouble brewing behind the scenes. Now, Abrams has spoken out about what happened:
"It became clear that given the time frame and given the process and the way the thing was going that working with Larry in this way was going to get us where we need to be and when we needed to be."
In layman's terms, with the Episode VII release scheduled for 2015, Abrams took over writing with Kasdan in order to make sure that the creative team finished the script in time to begin shooting sometime early next year. That's not to say that Arndt was under-performing, though:
"Working with Michael was a wonderful experience and I couldn't be a bigger fan of his or adore him more, He's a wonderful guy and was incredibly helpful in the process. [Taking over the script] doesn't preclude working with Michael again in the future. [Michael] is one of the best writers around."
It likely won't be until after Episode VII is released that we know the full story of how the film was made—and I'll certainly be first in line if J.W. Rinzler continues his "Making of" book series with a look at the production of Episode VII—but, for now, I'm happy to hear that things seem to be amicable and that the film is moving along to hit its targeted release date.
Read the full report from Deadline here.
What do you think of Abrams' remarks? Let us know in the comments below!
---
About the Author
Brandon Rhea is the founder of Star Wars Fanpedia, a contributor on Wookieepedia, and the owner/operator and creative lead of The Star Wars RP. Professionally, he is Senior Community Manager at Wikia, the host of Fanpedia. Follow him on Twitter @brandonprhea.
Community content is available under
CC-BY-SA
unless otherwise noted.