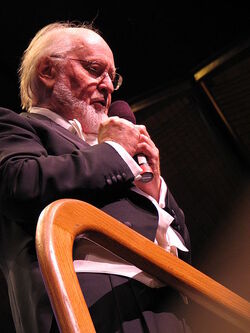 Legendary composer John Williams is "happy" and "willing" to return to the Star Wars Saga to score Star Wars Episode VII. Williams, who scored all six Star Wars films, recently spoke to Zap2It primarily about the upcoming Superman film Man of Steel (Williams scored the original Superman), but also touched on Star Wars. About Episode VII, he told Zap2It:
"We've certainly talked about that, and I'm happy and willing to do it. J.J. Abrams, who will be the director, seems excited about the idea. I have to say that J.J. is a much younger man than I, but I will try to keep up with him as much as I can!"
This isn't the first time Williams' name has come up for Episode VII. During promotion for Star Trek Into Darkness, J.J. Abrams said that he wants Williams to score the film. Long-time Abrams collaborator Michael Giacchino, who scored both of Abrams' Star Trek films and a number of his other projects, also voiced support for Williams' return, saying that "One of the things that excites me most about Star Wars coming back is the chance to hear a John Williams score." Williams himself has previously said he'd be willing to return, so his opinion remains unchanged.
Williams, who has known George Lucas for nearly 40 years, also said that he "can only imagine how excited [Lucas] must be, to have a director like J.J. have all these tools at his fingertips to produce something more adventurous technologically." For his part, Williams "can't wait to see what [Abrams] will do with it."
What do you think about the idea of John Williams scoring Star Wars again? Let us know in the comments!
Community content is available under
CC-BY-SA
unless otherwise noted.