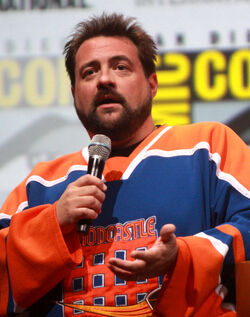 A few days ago, famed Clerks director Kevin Smith revealed he had visited the set of Star Wars Episode VII and that director J.J. Abrams "nailed it." Smith later elaborated on his feelings, as well as responding to criticism from some fans who said that, because he liked the prequel trilogy, he might not be the best judge of whether Episode VII is good. Here is what Smith had to say (via Flickering Myth):
"I'm really excited and you know, people keep saying that I liked the last trilogy and I did. I liked 1, 2 and 3. But I liked them as an adult, when I watched them they didn't give me the same feeling I had when I was seven watching them for the first time and that's fine. This movie though... Dude, I cried four times. The seven year old in me came. [J.J] has fucking captured it, man. He has nailed it."
And while Smith can't say much about the film due to having signed a non-disclosure agreement, he did say that he saw stormtroopers, lightsabers, and blasters on the set.
Exciting stuff! Here's hoping Smith is right.
---
About the Author
Brandon Rhea is the founder of Star Wars Fanpedia, a contributor on Wookieepedia, and the owner/operator and creative lead of The Star Wars RP. Professionally, he is Senior Community Manager at Wikia, the host of Fanpedia. Follow him on Twitter @brandonprhea.
Community content is available under
CC-BY-SA
unless otherwise noted.