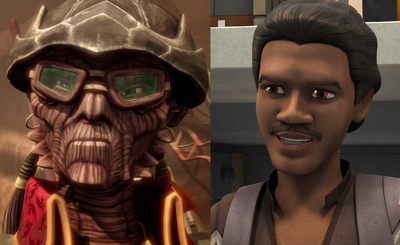 Fresh off of an appearance in "Idiot's Array," one of the most recent episodes of Star Wars Rebels, Billy Dee Williams has confirmed that there will be more appearances for Lando Calrissian in the Disney animated series. Speaking to Jordan Maison of Cinelinx, Williams said, in response to a blunt question about whether he would return again:
"Yeah! There's more adventures with Lando coming up."
This shouldn't come as too much of a surprise to those who saw "Idiot's Array." When we meet Lando in that episode, he's very much in the beginning of a brand new career and is looking to mine some land on Lothal—an operation that could very well one day lead him to the tibanna gas mine of Cloud City. Even Lando knew at the end of "Idiot's Array" that he would meet the crew of the Ghost again someday.
But Lando isn't the only fan-favorite character slated to return. Jim Cummings, who portrayed the Weequay pirate Hondo Ohnaka in several episodes of Star Wars: The Clone Wars, revealed on an episode of the podcast Full of Sith that Hondo will be making an appearance on the show sometime soon:
"He'll be back, but we do them so far in advance I don't know when. So you'll just have to watch them all. I do anyway, so what the heck."
When we last saw Hondo (chronologically speaking, as The Clone Wars was often told out of order), he was working with Obi-Wan Kenobi and Adi Gallia to defend his pirate base from Darth Maul and Savage Opress. An appearance on Rebels will show us what Hondo has been up to for the last fifteen or so years.
Are you excited for the return of Lando and Hondo? Share your thoughts in the comments below!
---
About the Author
Brandon Rhea is the founder of Star Wars Fanpedia, a contributor on Wookieepedia, and the owner/operator and creative lead of The Star Wars RP. Professionally, he is Senior Community Manager at Wikia, the host of Fanpedia. Follow him on Twitter @brandonprhea.
Community content is available under
CC-BY-SA
unless otherwise noted.