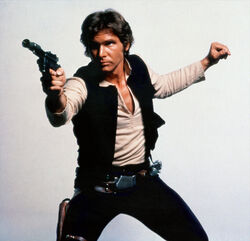 In addition to the news that Crystal Clarke and Pip Andersen have joined the cast of Star Wars Episode VII, Lucasfilm has provided an update on Harrison Ford and how his broken leg will affect the Episode VII filming schedule. Here is what Lucasfilm had to say:
"In August, the team will take a brief two-week hiatus while adjustments to the current production schedule are made as actor Harrison Ford recovers from a leg injury. Harrison is doing well and is looking forward to returning to the set soon. Shooting remains on track to wrap in the fall with the film scheduled for release on December 18, 2015."
Good to hear that Ford is doing well and expected to return soon. Unless this is PR spin, we can assume that the doom and gloom rumors saying Ford would be out for six months and that the release date would be changed were just that: rumors.
The update also said that filming in Abu Dhabi officially wrapped in May, and that the production is continuing to shoot at Pinewood Studios in the United Kingdom.
---
About the Author
Brandon Rhea is the founder of Star Wars Fanpedia, a contributor on Wookieepedia, and the owner/operator and creative lead of The Star Wars RP. Professionally, he is Senior Community Manager at Wikia, the host of Fanpedia. Follow him on Twitter @brandonprhea.