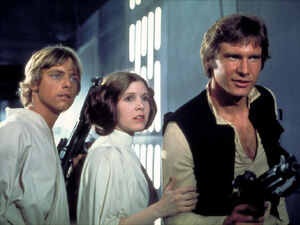 Excitement for Star Wars Episode VII continues to build, especially for what everyone is assuming to be the return of Luke Skywalker, Princess Leia, and Han Solo. Much of that excitement is being felt by the Son of Skywalker himself, Mark Hamill, who talked a bit about the film to The Hollywood Reporter.
"We want this to happen," Hamill said of the trio's return to the galaxy far, far away. "How could I not take this ride? They're making all the right moves, like Michael Arndt as the writer. Little Miss Sunshine, Toy Story 3 -- he writes humor and he writes heart."
But should Luke Skywalker and his friends still be the main characters of the new trilogy? "I'm not someone who looks to recapture the glory of when I was in my 20s. I think it'll probably be about the next generation. We'll be the link to the past, but the kids will be doing the heavy lifting. And the Wookiee will have a walker."
Still, the 61 year old actor doesn't want to think about whether he's the age Sir Alec Guinness was for Star Wars Episode IV: A New Hope, who was 63 when he first played Obi-Wan Kenobi. "Am the age Sir Alec [Guinness] was in 1977? I don't want to do the math."
For the full interview with Mark Hamill, check out The Hollywood Reporter.
Are you as excited as Mark Hamill for the return of Luke Skywalker? Let us know in the comments below!
Community content is available under
CC-BY-SA
unless otherwise noted.