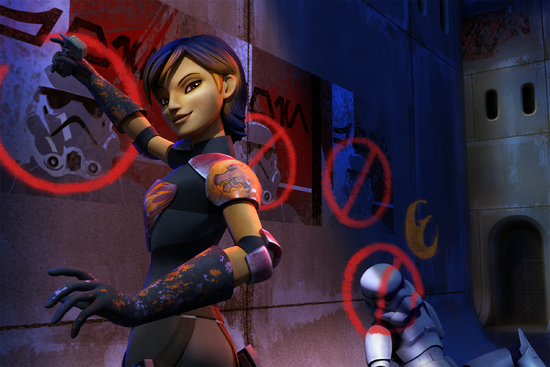 What, you didn't think the Star Wars Rebels characters were all going to be male, did you?
Meet Sabine, the first of two female main characters in the upcoming television series. Voiced by Tiya Sircar, Sabine is a "sassy," "spunky," and "feisty" Mandalorian with an "attitude." She's a weapons expert and loves blowing things up—with flair, because she's an artist—and she "moonlights as a graffiti artist." The graffiti isn't just for kicks, though. The Galactic Empire knows when the rebels have attacked, because Sabine likes to leave behind graffiti as a signature of their work. Sabine turned against the Empire already so she's an asset to the Ghost crew, the core cast of heroes on the show.
Joel Aron, a CG supervisor on Rebels, said that Sabine is "adding something that we haven't really seen before in the Star Wars universe. You have a character that is expressively creative through art -- whether it's the color of her hair or what she's done to her armor."
You can learn more about Sabine in the intro video below:
What do you think about Sabine? My guess is that fans will be really excited that she's a Mandalorian. Let us know in the comments below!
---
About the Author
Brandon Rhea is the founder of Star Wars Fanpedia, a contributor on Wookieepedia, and the owner/operator and creative lead of The Star Wars RP. Professionally, he is Senior Community Manager at Wikia, the host of Fanpedia. Follow him on Twitter @brandonprhea.
Community content is available under
CC-BY-SA
unless otherwise noted.