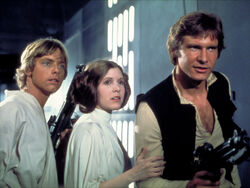 The Sun in the United Kingdom has allegedly heard some new clues from unnamed sources about Mark Hamill, Carrie Fisher, and Harrison Ford appearing in Star Wars Episode VII. According to the report, the actors have been hired trainers to help them get back into Star Wars fighting shape.
Before going any further I just want to say that I hate the fact that I'm writing about this since it's incredibly shallow, but it's news so I feel compelled to report it to you anyway.
According to the source, Hamill and Fisher have both been told by the studio to go on a diet before reprising their roles as Luke Skywalker and Princess Leia, respectively. Both actors will be given a nutritionist and trainer, because, according to the source, "Mark and Carrie need to be as close to their appearance in the earlier movies as possible." Producers, the source continued, "are keen to help out and have offered support. The budget is huge so there will be no expense spared."
But what about Harrison Ford? According to the report, the actor won't need the same treatment because the "producers are happy with the physique of the former action movie star."
Are you excited to see Han, Luke, and Leia again? Let us know in the comments below!
Community content is available under
CC-BY-SA
unless otherwise noted.