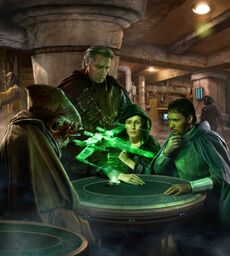 Star Wars Rebels isn't set to premiere until at least next summer, but we're already learning more about it. What we previously knew was that the show will be set between Star Wars Episode III: Revenge of the Sith and Star Wars Episode IV: A New Hope, a time when the Galactic Empire is solidifying its hold over the galaxy, a Rebellion is forming, and the Jedi Order is being all but destroyed. Now, JoBlo is reporting that while the series will have a whole host of brand new characters, we will also be seing the return of older characters from the original trilogy. Might we be seeing the return of characters like Mon Mothma or even Obi-Wan Kenobi? Time will tell.
But what about those new characters? Bleeding Cool is reporting that the Rebels title may refer to more than just the Rebellion. That's right: at least some of the characters are reportedly rebellious teenagers.
I can hear the cries of fanboys from here, but don't fret! Bleeding Cool also brings up a very good point: Star Wars focusing on teens is nothing new. Luke Skywalker and Princess Leia, for example, were teenagers in A New Hope (19, to be exact). The first time we saw Luke, his biggest concern was not being able to hang out with his friends (aka or "go to Tosche Station to pick up some power converters," as those nutty Tatooine kids call it). Even yesterday's leaked character breakdown includes a few teenaged characters.
Though Star Wars has always featured younger characters, and the original Star Wars film was modeled after Saturday morning serials like Flash Gordon, it always had a wider appeal than just young people. Younger audiences certainly loved Star Wars (and still do), but the original Star Wars was a smash hit because it appealed to everybody. As Bleeding Cool notes, another animated series (this time produced by Disney) with younger characters could be cause for concern for some Star Wars fans, but I agree with what Bleeding Cool says: it will still probably appeal to older fans as well as younger ones. Everyone can relate to a coming of age tale because everyone was young once.
This fits with what we here at Star Wars Fanpedia have previously said: that the new films will try to re-capture the spirit and appeal of the original trilogy so that all audiences can fully embrace it, rather than just younger audiences.
What do you think of this new Star Wars Rebels news? Let us know in the comments below!
Community content is available under
CC-BY-SA
unless otherwise noted.