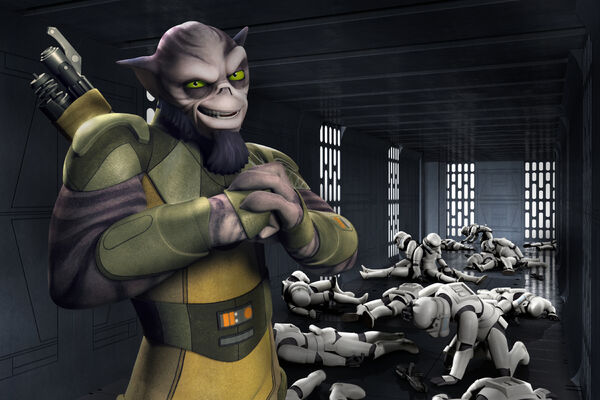 Another day, another Star Wars Rebels character announcement—at least that's what it feels like after last week's tease of Kanan Jarrus and Ezra Bridger. Not that I'm complaining. Today, IGN previewed another new character for the show in the form of Zeb, the smart, skull-cracking muscle at the center of the Ghost crew.
Zeb is from a race new to the Star Wars Saga, though it will surely be familiar to hardcore Star Wars fans: his appearance is based on Ralph McQuarrie's original concept art for Chewbacca, before the look of the iconic Wookiee was decided. The character is big, revered for his fighting skills and from a military background, but he's not just a dumb thug. He's witty, funny, and smart, which juxtaposes with his physical appearance. Still, he does have a bit of a chip on his shoulder, and hates Chopper—the grumpy astro-droid of the Ghost crew. He does love beating up stormtroopers, though. Who could blame him?
But it's not all fighting for Zeb. He begrudgingly begins to form a brotherly relationship with Ezra. They may fight a lot, but they work together, and Zeb is not above getting caught up in the fun and games that Ezra baits him into.
The character will be voiced by Steve Blum, known for voicing characters like Wolverine, Spike Spiegel, and Starcream, and he's always been a Star Wars fan. Said Blum, "I think I actually screamed when I was booked to play Zeb. It is literally a role of a lifetime. I've been lucky enough to play some major superhero roles in my career, but to be given a chance to play a new character in a Star Wars series? Brain explosion." What Blum likes about Zeb is that the character "challenges every acting skill in my arsenal and beyond... I get to vocally take on an ape-like physical power and abilities, a wicked sense of humor, intelligence and integrity, and so much more that I can't yet reveal."
For a preview of the character, including Blum's voice work, check out the video below:
Are you excited to get to know Zeb? Let us know in the comments below!
---
About the Author
Brandon Rhea is the founder of Star Wars Fanpedia, a contributor on Wookieepedia, and the owner/operator and creative lead of The Star Wars RP. Professionally, he is Senior Community Manager at Wikia, the host of Fanpedia. Follow him on Twitter @brandonprhea.
Community content is available under
CC-BY-SA
unless otherwise noted.