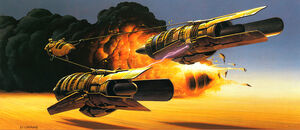 In an announcement today for Celebration Europe II, we learned that artists Doug Chiang and Iain McCaig will be returning to the Star Wars Saga as part of a team of talent assembled by Lucasfilm President Kathleen Kennedy "to create an exciting new future for Star Wars." Both artists will be attending Celebration Europe II.
Doug Chiang previously worked for Lucasfilm as the Design Director for Star Wars Episode I: The Phantom Menace and the Concept Design Supervisor for Star Wars Episode II: Attack of the Clones. Some of his artwork includes the design of Naboo, the Gungans, and the Trade Federation for The Phantom Menace. One of his pieces, part of the podrace from The Phantom Menace, can be seen above and to the right. On returning to Star Wars, Chiang said:
"It's wonderful to be back! It's been over ten years since I last worked on Star Wars but my Star Wars roots have touched nearly every film I've designed since. It's still a bit surreal that I get to work on another one."
Iain McCaig worked as a concept artist on The Phantom Menace, Attack of the Clones, and Star Wars Episode III: Revenge of the Sith. He designed a number of notable characters including Queen Amidala, Darth Maul, Sio Bibble, young Governor Tarkin, and a young Han Solo from a planned, but later scrapped, scene in Revenge of the Sith. On returning to Star Wars, McCaig said:
"I never thought I'd live to see this day. It's pure magic to have the band back together again."
With the cancellation of Star Wars: The Clone Wars in favor of Star Wars Rebels, as well as comments by Kennedy and J.J. Abrams about re-capturing the original spirit of Star Wars, Lucasfilm and Disney have made strides to distance themselves from the prequel trilogy. Bringing in prequel concept artists changes that, but I think it's a smart move. Whatever one believes about George Lucas' direction of the prequels, the concept art was often fantastic, and Chiang and McCaig contributed to that greatly. I'm excited to see what they have in store for the new look of Star Wars.
What do you think about Doug Chiang and Iain McCaig returning? Let us know in the comments below!
Community content is available under
CC-BY-SA
unless otherwise noted.