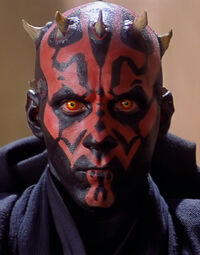 Ray Park brought the menacing Sith Lord Darth Maul to life in Star Wars Episode I: The Phantom Menace, and even fans who don't like the Star Wars prequels tend to be a fan of the character. In fact, one of the biggest criticisms is that the character was gone so soon. But now that Maul has been resurrected in Star Wars: The Clone Wars, might we see that change in the new films?
Talking to MTV, Park said he's ready and willing to return for more Star Wars—and he was a big fan of how Lucasfilm brought Darth Maul back in The Clone Wars, where the character was voiced by Sam Witwer (who also played Galen Marek/Starkiller in The Force Unleashed).
"Just give me food and water, and I'm there," Park joked.
The actor said that if he returns to Star Wars, he would want to do it "with something a little bit spicy." What does he have in mind? He'd like to see the double-bladed lightsaber again "to bring a meaner, badder Maul," and he would also "like to go shirtless and show off more of the character's Nightbrother clan tattoos." Above all, Park said that he loves Maul and loves being a valued part of Star Wars.
No one has approached Park about returning, but what do you think? Would you like to see the return of Darth Maul in the new Star Wars films? Let us know in the comments below!
Community content is available under
CC-BY-SA
unless otherwise noted.