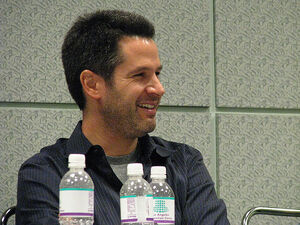 We're getting closer and closer to the premiere of Star Wars Rebels sometime this fall, and learning more about the series the closer we get. Simon Kinberg, one of the show's executive producers (along with Dave Filoni and Greg Weisman) and writers, talked to Collider about his involvement in the series and revealed a few new tidbits of info. The comments were made during the press tour for X-Men: Days of Future Past, which Kinberg wrote.
During the tour, Kinberg talked about how he wrote the first two episodes, which will air as the series premiere in a "movie-of-the-week" format, and revealed that he wrote the season finale, which they are working on now. The producer also revealed that the first season has 16 episodes, as well as his involvement in the execution of the series:
"...as the executive producer, I will read all the scripts. I will sometimes run a pen through them and rewrite stuff in the scripts that lots of other really talented writers have worked on. I will watch cuts of the show, I will give notes on whatever I think about performance or score or animation, but they have such an amazing team of people, many of whom are Clone Wars alums like Dave Filoni, who's as much of a creative voice on the show as anybody. So they put a great team together. They really know what they're doing. And I will come in, and look at stuff, and give input, and occasionally write episodes. So the first season I'm responsible for writing three episodes—the first two and the last one."
Kinberg also talked about how characters from past Star Wars stories will appear (it's long-been rumored that Lando Calrissian will appear on the show). He said that "writing dialogue for any of the legacy characters is as big a thrill as anything I've ever had in my life."
Star Wars Rebels will premiere this fall on The Disney Channel and air as a series on Disney XD.
---
About the Author
Brandon Rhea is the founder of Star Wars Fanpedia, a contributor on Wookieepedia, and the owner/operator and creative lead of The Star Wars RP. Professionally, he is Senior Community Manager at Wikia, the host of Fanpedia. Follow him on Twitter @brandonprhea.
Community content is available under
CC-BY-SA
unless otherwise noted.