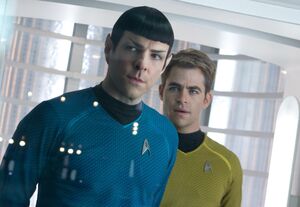 Star Trek and Star Trek Into Darkness costumer designer Michael Kaplan has revealed that he will be the costume designer for Star Wars Episode VII. By becoming a Star Wars costume designer, Kaplan joins the ranks of John Mollo (IV,V), Aggie Guerard Rodgers (VI), Nilo Rodis-Jamero (VI), and Trisha Biggar (I,II,III).
In an interview with BuzzFeed, Kaplan said:
"Well, I've just learned I'll be working on the new Star Wars movie, again with J.J. Everything just got formalized [last week], I haven't even had the chance to talk to anyone about it all other than to be told 'welcome aboard.' It's a little too soon to know exactly what's in store but I'm excited, absolutely, to get to work on another prestigious sci-fi series."
Some of Kaplan's other credits include Blade Runner (starring Harrison Ford), Pearl Harbor, Mr. & Mrs. Smith (written by Simon Kinberg), and Mission: Impossible - Ghost Protocol (produced by J.J. Abrams).
Kaplan's approach to Star Trek might shed some light on how he will approach Episode VII. In his BuzzFeed interview, Kaplan said:
"I based a lot of the costume designs on the original TV series; I wanted the film's costumes to be grounded in iconic pieces from that show. Not any of the sequels, just the original run. And I decided upon key elements to hold on to [design-wise], details that, to me, were 'Star Trekkian' as opposed to representing any other futuristic genre."
Could this suggest that we might be getting a look similar to that of the original trilogy? This isn't the first time such an idea has been floated. Mark Hamill previously said that he wants the look of the new films to "go retro."
What do you think about Kaplan being the costume designer? Did you like the costume designs in Star Trek and Star Trek Into Darkness? Sound off below!
Community content is available under
CC-BY-SA
unless otherwise noted.