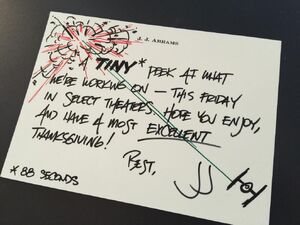 The long-awaited trailer for
Star Wars: The Force Awakens
will debut in theaters around the U.S. on Friday. This is a developing story, so we'll be updating here as news breaks.
UPDATE - 3:47 PM ET:  StarWars.com has tweeted the full list of theaters where you can see the trailer this weekend.
AZ PHOENIX HARKINS TEMPE MARKETPLACE
CA LOS ANGELES AMC CENTURY CITY
CA LOS ANGELES Indep EL CAPITAN
CA IRVINE REGAL SPECTRUM IRVINE 21
CA SAN FRANCISCO AMC METERON 16
CA SAN JOSE CINEMARK OAKRIDGE 20
CA SAN DIEGO REGAL MIRA MESA 18
CAN TORONTO CPX YOUNGE & DUNDAS
CAN VANCOUVER CPX RIVERPORT
CO DENVER AMC WESTMINSTER 24
DC WASH D.C AMC TYSONS CORNER 16
FL MIAMI CARMIKE PARISIAN 20
GA ATLANTA REGAL ATLANTIC STATION
IL CHICAGO REGAL CITY NORTH
MA BOSTON AMC BOSTON COMMONS 19
MI DETROIT CINEMARK SHOWCASE 20
MN MINNEAPOLIS AMC SOUTHDALE
MO KANSAS CITY AMC STUDIO 30
NY NEW YORK AMC LINCOLN SQUARE 12
NY NEW YORK REGAL UNION SQAURE
OH CLEVELAND CINEMARK CINEMARK 24
PA PHILADELPHIA REGAL WARRINGTON 22
TN NASHVILLE CARMIKE THOROUGHBRED 20
TN KNOXVILLE REGAL PINNACLE
TX DALLAS CINEMARK PLANO 20
TX HOSTON REGAL MARQ*E STADIUM 23
TX AUSTIN ALAMO ALAMO S LAMAR
UT SALT LAKE CITY CINEMARK CINEMARK 24 WJ
WA SEATTLE REGAL THORNTON PLACE 14
WI MILWAUKEE MARCUS BROOKFIELD 16
UPDATE - 3:35 PM ET:  Various other theater chains (Cinemark, Carmike, etc.) have confirmed that they'll be showing the trailer. Current tallies put the number of nationwide theaters confirmed to be showing the trailer in the 20-30 range. Details are still TBA.
UPDATE - 2:28 PM ET:  @AMCTheatres tweets that "they've heard the Star Wars news" and will have more info soon, along with a meme pic of Yoda on Luke's back captioned, "Patience you must have, my young padawan." We can safely assume that the trailer premiere will NOT be a Regal exclusive -- more theaters in more locations than the original 9 posted by Regal. They later update that select AMCs will play the trailer on Friday, "locations soon."
UPDATE - 1:34 PM ET: J. J. Abrams confirmed the Friday trailer release with a handwritten note tweeted from the @bad_robot account at 1:34 PM ET. In the note, Abrams tips that the preview will be 88 seconds long. Still no official details on specific showtimes other than Abrams' confirmation of "select theaters."
UPDATE - 11:11 AM ET: At approximately 11:10 AM ET, the text on the trailer announcement page on the Regal Cinemas website was deleted. The Star Wars image was replaced with a meme-inspired pic of Mon Mothma with the caption: "Many Bothans died to bring us this information."
UPDATE - 10:22 AM ET: At approximately 10:20 AM ET, the Regal Cinemas tweet announcing the trailer debut, and a corresponding Facebook post, were deleted. The theater also briefly posted an "opening crawl"-style announcement on YouTube which was removed. The listing page on their website remains live.
ORIGINAL STORY: Word of the trailer's debut first came by way of an unexpected source on Monday morning -- the Twitter account for Regal Cinemas which posted a link to their website showing a list of only 9 theaters (at this time). These theaters will be showing the trailer in front of every film November 28-30.
The Regal announcement came just before 9AM ET, and at this time there's been no update to StarWars.com and no other official comment from Disney/Lucasfilm. There are online reports that other theaters will be announcing plans soon, and that the list will be expanding -- it's likely that the Regal release is the first in a series of announcement. 
---
About the Author
Brian Linder has been a driving force of Star Wars fandom online since 1996. He is an administrator on Star Wars Fanpedia. Professionally, he works for Wikia as Programming Manager of the Entertainment space.
Community content is available under
CC-BY-SA
unless otherwise noted.